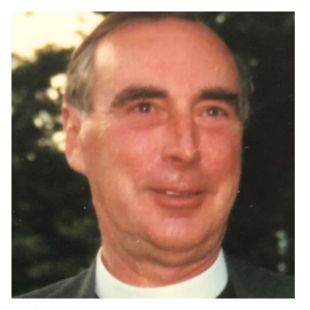 In Memory of Rev. Richard Louis Manzelmann
January 25, 2021
Resided in New Hartford, NY
---
Visitation
Private Visitation
Service
Private Service
Cemetery
Private Cemetery
---
Obituary
print this
Rev. Richard Louis Manzelmann, 92, passed away peacefully on the morning of Monday, January 25th at St. Luke's Hospital in Utica, NY.
Richard "Dick" was born in Detroit, MI in 1928 and moved to Plainfield, NJ shortly thereafter. He graduated with a BA from Muhlenberg College in Allentown, PA in 1950. It was there that he "felt the calling" to go into the ministry. He attended and graduated from Union Theological Seminary in New York City with a MDIV degree in 1953 and was ordained to the ministry that year in the Crescent Ave Presbyterian Church in Plainfield, NJ. His first ministry was in Greenwich, CT where he met his wife, Joan Hunter, and then went on to serve as a denominational chaplain at Brown University and RI School of Design. Richard married Joan Hunter in Christ Church, Greenwich, CT in 1959. He served eight years at the North Presbyterian Church in Geneva, NY during which he and Joan were blessed with two sons. Richard then became minister at the New Hartford Presbyterian Church in NY. After a long and meaningful experience at New Hartford he retired the year of the church's Bicentennial in 1991. Joan retired in 1993 and they relocated to Middlebury, VT. During those years in VT he joyfully served as interim minister in several small Congregational churches including Cornwall and Weybridge. Also, in retirement he taught a local college course on poetry focusing on the songs of Bob Dylan. They moved back to the Utica area in 2005 to be near family. The love of his life, Joan died in 2011 from Parkinson's Disease.
Richard often reflected on experiences that were formative and powerful for him. His time at Union Seminary with the renowned professor Reinhold Niebuhr opened his mind and spirit to a new kind of ministry – one that was different and a ministry that made a difference. He'll be remembered for taking seriously (in his words) "the moral obligation to be informed about what was going on in the community, the country, and the world, good and bad, near and far, and sought to relate that not only to his preaching but also to his service to the community and beyond." Thus he committed himself to the saying that we should carry the Bible in one hand and a newspaper in the other hand and initiate a conversation between the two of them. So with his Bible and his beloved NY Times he shared important world issues and helped his friends and parishioners understand how to relate God's advice in their daily lives. To his delight, the NY Times even published a column reporting one of his sermons.
He was fascinated by the history of the Utica area and wrote a chapter on Revivalism and Reform for the bicentennial history of Oneida County. In 1992 a profile of his ministry along with others was published in a book entitled Sources of Inspiration: 15 Religious Leaders. Richard also took great joy and responsibility in mentoring several, wonderful assistant pastors over the years. He loved the experiences and creative work that they collaborated on. They have been quoted saying that as young ministers just starting out, his preaching and caring for people had a tremendous impact on them. He'll be remembered for his keen intellect and aesthetic sensitivity that set those assistants on their own creative ministries.
Richard had a rich life with family, friends, and adventures. In addition to several trips to Europe, and a trip to Tanzania, he took the opportunity to exchange churches on two occasions (with Joan and boys) – Kinghorn, Scotland and Carnarvon, Wales. He cherished his month-long stays at the Timberhill Farm in the Poconos. Dick treasured his trips to Virgin Gorda, BVI and his retirement in Vermont with a view of the Green Mountains. He was honored to attend the 1963 March on Washington to hear Martin Luther King Jr.'s speech and march against racial inequality. Later in life, Richard reflected fondly that in his first year in seminary he was "the lonely white guy in an all black church" when he was assigned to a parish in Harlem. It was the well-known pastor, James Herman Robinson, that taught him that no matter your race, nor rich or poor, each person was in God's sight. Friends and family will always treasure the yearly crafts and decorations that he made that now hang in our homes and holiday trees. They will fondly recall a coffee table with nowhere to put your coffee except on one of the five piles of books Richard was reading. Yet, when Richard was not reading, it was his friends, near and far, that he loved exchanging ideas and conversing with late into the night. Richard was grateful in these last years for the love and support of friends, and he liked to quote from the Beatles' song. "I get by with a little help from my friends."
Richard is survived by his two sons, Peter and wife Mary-Ann Manzelmann of Mauricetown, NJ and David and wife Judy Manzelmann of New Hartford NY; grandsons, Tenzin Douglas-Manzelmann; Jacob and Matthew Manzelmann and step-grandsons Mike and wife Angela, Mat, and Max Fitzgerald. He is also survived by his loving sister Carolyn Brown in Ohio and his nephew and nieces Fritz and Patty Laubach, Lynn Laubach and Susan and Chip Scott.
A memorial service to celebrate Richard's life will be scheduled for a time when the pandemic has relaxed and we are able to safely gather. Richard wished that those who would like to remember his friendship and ministry would make a contribution to Union Theological Seminary, 3041 Broadway, New York City, NY 10027.
Arrangements are in the care of Friedel, Williams & Edmunds Funeral and Cremation Services, New Hartford.
---