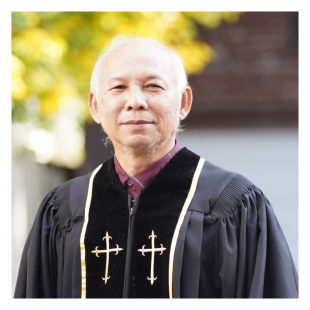 In Memory of Rev. Daniel Calvin San
January 27, 2021
Resided in Utica, NY
---
Visitation
Private Visitation
Service
Private Service
Cemetery
Private Cemetery
---
Obituary
print this
Rev. Daniel Calvin San of Utica, NY, passed away at St. Luke's Hospital after a valiant fight against COVID-19.
Born in the village of Maw Lay, Burma (Myanmar), and named Daniel Htoo by his ethnic Karen parents, he grew to be a man of many talents. Always active in the local Baptist church, he was encouraged as a young adult to enter pastoral ministry. He graduated from Home Mission Bible School and Karen Baptist Theological Seminary at Insein (Yangon). He married Anna Vin, a seminary schoolmate, on May 5,1983.
Following seminary, Rev. San served Karen churches in Bokalay village and Thay Mu Church in Burma. He loved the countryside and farming the little plots of land provided to the pastor. In his time in the Delta region, he especially enjoyed fishing.
Anna and Daniel had 3 children: Johnay (wife Thulay Soe), Lay Doh and Olive. Due to civil war in Burma, the family fled across the border to Thailand and resided in Tham Hin Refugee Camp. In the Camp, Rev. San pastored Bethany Baptist Church.
Through the Refugee Resettlement Program, the family immigrated to the U.S. in 2006, coming first to Iowa. Within a few months, former church members from Thailand and Burma recruited Rev. San to join the pastorate of Tabernacle Baptist Church of Utica, where the ethnic Karen membership had been growing for 7 years. In the U.S., Pastor Dan, as the Anglos of the church called him, taught himself English by working with a Karen translation and an English translation of the New Testament side by side. He was loved and respected by the church's Anglo and Karen members. He was tireless in his home visits and home services. He was faithful in his preaching and in teaching. He was often in the lead on projects church volunteers did to care for Tabernacle's historic building. "We do it!" he would say. "It's easy!"
He was blessed with a beautiful voice and often led Tabernacle's acapella Karen Choir on Sunday morning, starting them out on pitch with his strong "Do-Mi-Sol-Mi-Do". Not only a leader at Tabernacle and in the Utica Karen Community, Pastor Daniel was also a leader throughout the U.S. Karen community with his teaching, preaching, and friendship. He was a mentor to other pastors and was sought out as one of few ordained Karen Baptist pastors to do weddings, baptisms, and to serve the Lord's Supper throughout the Northeast.
Pastor Daniel, along with his wife Anna, enjoyed his 3 granddaughters, Katherine, Kristine, and just-born Kimberly. He continued to enjoy growing vegetables in the summertime and shared his harvest. He blessed everyone who knew him with his gentle servant-leader spirit. He was a great man of God, and all who knew him are challenged to live up to his example of Christian faith.
Funeral services will be held privately and arrangements are with the Friedel, Williams & Edmunds Funeral and Cremation Services,1123 Court St., Utica.
---