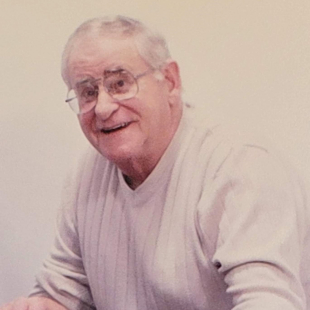 In Memory of Ralph "Red" Leonard Grandinette
June 1, 1935 - November 6, 2023
Resided in New Hartford, NY
---
Visitation
No Visitation
Service
New Hartford Presbyterian Church
45 Genesee St.
New Hartford, NY 13413
Cemetery
No Cemetery
---
Obituary
print this
Ralph "Red" Leonard Grandinette, 88, of New Hartford, N.Y. passed away peacefully in his home with his family by his side on November 6, 2023 after a long illness that he fought with strength and grace.
Ralph was born on June 1, 1935 in Utica, N.Y. to Helen Grandinette Cowburn, attended Utica schools, and was a proud Proctor High School Alumni.
Ralph married Olga A. Daniels in July of 1957 and they enjoyed 66 loving and adventurous years together. They were quite the team, whether they were working together to remodel their 1870 home, room by room; camping, or traveling to Europe; later enjoying both long and short trips in their much-loved RV. Camping in the beautiful Adirondack mountains with his family and boating on the many mountain lakes was one of Ralph's favorite pastimes, a love that he handed down to his family. Ralph had a very particular palate when it came to Italian food, and while he loved Olga's incredible cooking and baking, when dining in a restaurant, he was often heard to say, "I've had better," and would rarely proclaim, "It's the best I've ever had", unless it was made by Olga.
Ralph was employed in construction as a young man; he worked for many years at Caruso Brothers Cheese of Utica, N.Y., and then at Freihofer's Baking Company of Verona, N.Y where he retired after many years as a supervisor. He always brought home Freihofer's famous chocolate chip cookies, which didn't last long in a home with 4 daughters. When he wasn't working, you could find Ralph in his beloved workshop where he was self-taught, and could build or fix just about anything.
Ralph leaves behind his wife Olga A. (Daniels) Grandinette, who has been his loving and selfless caregiver for the last several years, along with 4 daughters: Sharon Grandinette and her husband Paul Allman of Redondo Beach, C.A.; Velvet Hawthorne of Asheville, N.C.; Wendy and Jeff Morgan of Old Forge and Hamilton N.Y.; and Dina Grandinette and her husband Jim Stavropoulos of San Pedro C.A. Ralph also leaves behind his much loved grandchildren, Sierra Hawthorne and her husband Shawn Wiggins, Noah and Abigail Morgan, and Logan and Lia Stavropoulos. Ralph was predeceased by his cousin, Anthony Dichiera, who was like a brother to him. Ralph will be missed by the many members of the Grandinette, Daniels, Dichiera and Loconti families, as well as his numerous lifelong friends.
A special thanks to the New Hartford Volunteer Fire Department for all their kindness and support, as well as Dale Hays of Tender Loving Care Home Care and Mary Bohling for their compassionate caregiving throughout his later years.
The funeral will be on Thursday, November 9, at 11:00 am at the New Hartford Presbyterian Church. The family will receive all of the guest at the end of the service. Arrangements are with Friedel, Williams & Edmunds Funeral and Cremation Services, 13 Oxford Rd., New Hartford.
In lieu of flowers, please consider the New Hartford Fire Department in memory of Ralph.
For online expressions of sympathy go to fwefh.com.
---