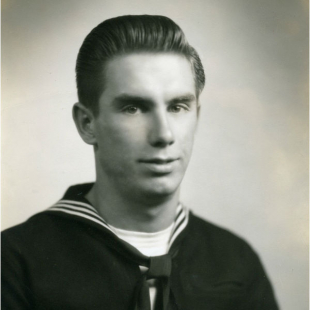 In Memory of R. Thomas Esrich
January 29, 2020
Resided in New Hartford, NY
---
Visitation
No Visitation
Service
St. Thomas Church
150 Clinton Rd.
New Hartford, NY 13413
Cemetery
No Cemetery
---
Obituary
print this
R. Thomas Esrich, 92, of New Hartford, died January 29, 2020.
Tom was born December 13, 1927 in Newburgh, NY, to the late Robert and Rosebelle (Indzonka) Esrich. He moved to Utica as a child, graduated from St. Francis De Sales School in 1946, and attended Utica School of Commerce. Tom served in the US Naval Air Transport service state side, of which he was very proud of serving in "Uncle Sam's Navy". Tom worked for NY Central Railroad for 15 years, and walked to Utica National Insurance Co. for 28 years until retiring in 1993.
He was a founding member of St. Thomas Church, New Hartford. Tom's Hobbies included in his youth diving and swimming, skiing, (water and snow) walking, playing the piano by ear, his favorite being Claire DeLune, and being a BB.
On September 22, 1949 he married Ina LaShure, and shared 67 years until her passing in 2016. Tom is survived by his daughters, Sher Getchell of KY, Bonnie (Vinny) LoRusso of Clayville, NY and Barb (John) Kivela of New Hartford. He also leaves seven grandchildren Jessica (Jim) Stetson, Nathan (Alysha) Getchell, John Michael (Eydy) Famolaro, Erin Famolaro, Ryan (Angela) Kivela, Dean (Melissa) Kivela and Anna Kivela (who would never let him be Belle), six great grandchildren Caroline, Liam, Luke, Jio, Zoe and Nate. Tom also leaves his sister Mary Lou Mitchell of St. Petersburg, FL and many cherished nieces and nephews and a special great-great niece and nephew.
Tom was predeceased by his wife Ina, and his infant son Richard Thomas, his sisters Barbara Thomas and Delores Julian.
In keeping with Tom's wishes there will be no public calling hours. Relatives and friends are invited to attend a Mass of Christian Burial on Tuesday at 11:00 AM at St. Thomas Church, 150 Clinton Rd., New Hartford. The family will receive friends following the mass.
Please consider donations in Tom's memory to any Alzheimer's/Dementia program or St. Thomas Church, New Hartford
Arrangements are with Friedel, Williams & Edmunds Funeral and Cremation Services, New Hartford.
---