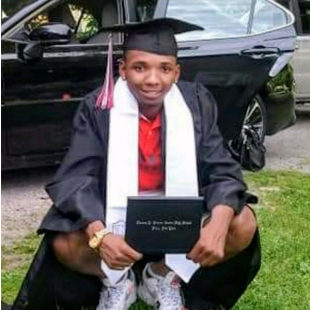 In Memory of Quaheem H. Holland
January 6, 2000 - January 8, 2020
Resided in Utica, NY
---
Visitation
Utica
1123 Court Street
Utica, NY 13502
Service
No Services
Cemetery
No Cemetery
---
Obituary
print this
Quaheem H. Holland 20yrs old of Utica, NY was called to serve as an angel January 8 2020.
Quaheem entered his life into this world January 6 2000, son of Kim Felton and Hassheim White. From the beginning of time he was a very self driven, motivated and fearless child. There was nothing he believed he could not learn and conquer. These same characteristics would stick with him as he started to progress in age and a new found love for basketball would soon be born. This is something that came naturally to him but at the same time brought him pure enjoyment and excitement. On the court he was invincible. His charisma, speed and agility spoke volumes when that basketball was in his hands. He would go ahead and play for numerous basketball teams in middle school through high school. ????One of his biggest basketball accomplishments is while in middle school he would play for varsity well before graduating to attend. ????As a student of Proctor High School he would excel in basketball and become apart of the graduating class of 2019, all while working for McDonald's and Wendy's. In Quaheem's spare time he loved to spend it with his family and friends. He embodied the concept of what it means to live, love and laugh. He could walk into a room and immediately bring light to peoples life. A little of his favorite music and humor is all that he needed to create a positive, fun filled atmosphere. A true wholesome and humble young man he had become. His younger brothers meant the world to him and he would always go above and beyond to put a smile on their face. He truly is his brothers keeper. The impact he had on many peoples life is undeniable and although his life was short lived, the memories are pure treasure that will live on forever.
Quaheem is survived by his mother Kim Felton and her husband Jermaine of Utica. Father Hassheim White of Utica. Grandmother Denise Holland of Utica. Brothers Tyheim Holland, Jahkyllz Felton, Kymaine Felton all of Utica and Jameek White of Florida. Aunt Kendra Stubbs and Uncle Kyson Stubbs both of Utica. Uncle Kinte Holland of Albany. He was pre-deceased by his Great Grandmother Jean Holland. Great Uncle Jeffrey Holland and long time best friend Hector (Pesos).
Calling hours will be held on Tuesday January 21, 2020 from 2pm-5pm at the Friedel, Williams and Edmunds Funeral and Cremation Services located on 1123 Court St. Utica, NY 13502.
---