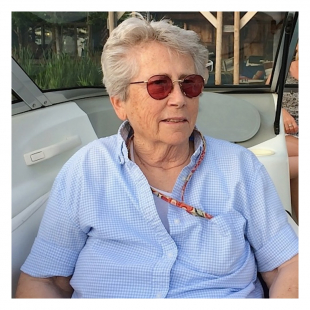 In Memory of Pamela Post Hemmel
April 14, 1932 - February 11, 2021
Resided in New Hartford, NY
---
Visitation
No Visitation
Service
No Services
Cemetery
No Cemetery
---
Obituary
print this
Pamela Post Hemmel (1932 - 2021) of New Hartford, affectionately known as "Pammy" to her grandchildren, passed away at St. Luke's Memorial Hospital on Feb 11, 2021.
Pam was born April 14, 1932 in Utica, NY, daughter of Arthur W. Post, Jr. and Mary Rose Kempf. Pam was a graduate of New Hartford High School and Stephens College of Missouri. It was while at Stephens that Pam developed a love of flying airplanes and was quite proud of the trophy she won for "bomb" dropping – tossing a sack of flour out the plane's window onto a target painted on the ground.
She married John (Jack) Hemmel on her birthday in 1956 at Our Lady of Lourdes Church. As the family recalls, reportedly she wanted to give Jack a better chance at remembering the date.
Pam was a Certified Financial Planner employed at The Post Agency, established by her grandfather in 1894. As a CFP she advocated for Financial Literacy programs for high school students. . Pam also supported her community as a member of the New Hartford Historical Society, St Elizabeth's Guild, Brantingham Lake Association, AARP free tax preparation program and Lewis County Office for the Aging. She and a group of friends founded the Brantingham Ladies of the Lake Investment Club. Pam's Catholic faith was very dear to her heart and she would always ask to "watch" Mass when she wasn't able to be in attendance.
Though she lived in Utica and New Hartford for many years, Pam's favorite place on earth was Brantingham Lake where, since her childhood, she has enjoyed a lakefront home. The couple made it their permanent residence in 1983. Brantingham was probably second only to the St. Lawrence River, where as a child she frequently visited her grandparents in Clayton, NY (and had the thrill of turning the trains around at the Clayton Railroad Depot's turntable). At Brantingham Pam enjoyed sitting by the water, exploring the back roads of the Adirondacks and daily walks with friends. Pam also cherished a boat ride, whether in a wooden boat she and Jack built themselves or, in later years, the pontoon boats of friends who kindly stopped by to offer a cruise. She instilled a love for the lake in her children and grandchildren that lasts to this day.
Pam spent the final 16 months of her life at Brookdale Senior Living in Clinton, NY. The family would like to extend special thanks to Bonnie and Her Band of Angels who served as companions as well as caregivers while she lived there.
Pam is survived by her children, Holly Gros, Chip (Betsy) Hemmel, Jeff (Kris) Hemmel, grandchildren Sarah and Ryan Gros, Maureen and Annie Hemmel, Keeley and Riley Hemmel, great grandchild Leila Reed, along with aunt Betty Kempf and cousin Tami Kempf.
In lieu of flowers, please donate to a charity of your choice and extend a kindness to someone in need.
A private service will be held at the convenience of the family at a date to be determined.
Arrangements are with Friedel, Williams & Edmunds Funeral and Cremation Services, New Hartford.
---