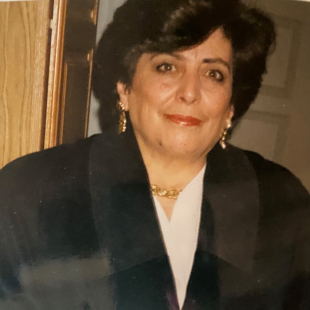 In Memory of Mariam Chahine
February 10, 1945 - October 5, 2021
Resided in Utica, NY
---
Visitation
No Visitation
Service
Friedel, Williams & Edmunds Funeral and Cremation Services
13 Oxford Road
New Hartford, NY 13413
Cemetery
Calvary Cemetery
2407 Oneida St
Utica, NY 13501
---
Obituary
print this
Mariam Chahine, of Utica, NY, formerly of Bkarzla, Lebanon, passed away Tuesday, October 5, 2021 peacefully in her home.
Born February 10, 1945 in Lebanon, she was the daughter of Nassim and Jamilee Issa. She married the late Massoud T. Chahine on October 7, 1964 in Lebanon. A beloved wife, daughter, sister, mother, and grandmother, Mariam's door and heart were always open. She was a dedicated member of the Saint Mourra Guild in Lebanon and a parishioner at St. Louis Gonzaga Church in Utica. Mariam spent most of her life devout to our Lord and to her family, especially her grandchildren — the loves of her life whose love for her was reciprocated ten-fold. She was a kind-hearted, altruistic, and witty woman with a smile and deep laugh that lit up any room.
Mariam is survived by her four children: Mirna Zeina of the Grapevine, New Hartford and her husband Louie, Rita Chahine of Lebanon and her husband Joseph, Janine Chahine of Utica, and Charbel Chahine of Utica; her siblings: Mounifee Issa of Lebanon, Dr. Maroun Issa of France and his wife Marlene along with their children Ivan Issa and Dr. Romane Issa, and Warde Chahine of Brazil along with her children Dr. Flavia Chater and her husband Dr. Nadim Chater and Eduardo Chahine and his wife Ana Claudia; her grandchildren: Dr. Tanya Zeina, Dr. Christina Zeina, Louis Zeina, Dr. Joe Chahine, Norman Chahine, and Mariane Chahine; and a multitude of cherished nieces, nephews, cousins, and loved ones. She was predeceased by her brothers Anthony, George, and Youssef Issa. Mariam was deeply treasured and will be greatly missed by all who her beautiful spirit touched.
The funeral will be held on Wednesday October 13, 2021 at 11am in St. Louis Gonzaga Church. The family will receive condolences after the services. Interment will be in Calvary Cemetery. Arrangements are with the Friedel, Williams & Edmunds Funeral and Cremation Services, 13 Oxford Rd., New Hartford.
Memorial donations may be made to the Lebanese Red Cross at supportlrc.app or to St. Louis Gonzaga Church in memory of Mariam.
---