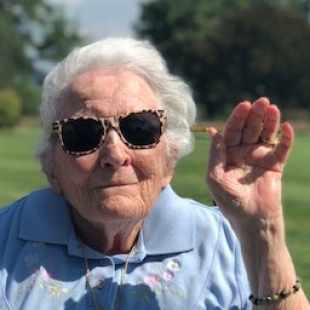 In Memory of Marguerite E. Fuge
January 15, 1929 - January 14, 2020
Resided in Utica, NY
---
Visitation
No Visitation
Service
No Services
Cemetery
No Cemetery
---
Obituary
print this
Utica - On January 14, 2020 Marguerite (Mugsy) Fuge passed away peacefully in her sleep, watched over by her family. She was one day short of her 91st birthday. She leaves behind her three daughters: Heidi Fuge, Deb Fuge (Carl Klossner) and Jill Fuge (Butler Newman); two beloved grandsons Zachary (Sarah) and Dereck Newman, one great granddaughter, Emery Maeve Newman and a brother George B. Hart of Maryland. She was predeceased by her husband George Fuge and her sister Jane Gondolini.
Mugsy grew up in Westbury, Long Island, graduated from Cortland College (where she met and married George Fuge) and took a teaching position in the Ramapo Mountains in the early 1950s. Mugsy, George and their three daughters lived in Monsey, NY.In 1962, George accepted a position as Director of the Cortland College Outdoor Education Center in Raquette Lake, NY.  They loaded their young children, belongings and dog into an old Army surplus jeep and headed into the Adirondack Mountains. Mugsy had never envisioned herself living in a two-room log cabin that was accessible only by boat and heated by wood stoves. However, she had always loved outdoor activities and reveled in the opportunities that she now had, passing along to her children her love of nature and animals. She was also an active participant in the Raquette Lake community: serving on the Library Board, the PTF Association and becoming a member of the local Chapel. Her many outdoor activities included cross country skiing, horseback riding, golfing, fishing, hiking, camping and canoeing. She taught her children to appreciate the out-of-doors and to be strong, independent women. Family was always an important aspect of Mugsy's life and she was extremely proud of her two grandsons, Zachary and Dereck and was delighted when they showed an interest in many of the things that she valued.
The Fuge family is grateful to the Masonic Home for the kind and considerate care they gave Mugsy in the last three years of her life.
A celebration of her life will be held in the Spring of 2020. The Fuge family suggests that anyone wishing to honor Mugsy may make a donation to the Raquette Lake Library or the Raquette Lake Fire Department (Raquette Lake, NY 13436).
---