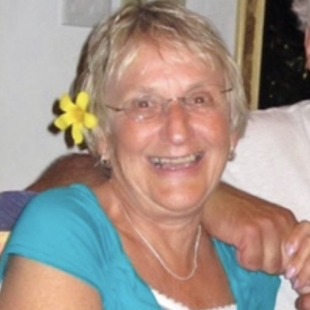 In Memory of Lynn Anne Kraft
December 29, 1945 - October 30, 2023
Resided in New Hartford, NY
---
Visitation
Private Visitation
Service
Private Service
Cemetery
Private Cemetery
---
Obituary
print this
It is with deep sadness that we announce the passing of our beloved wife and mother, Lynn Anne Kraft, who passed away peacefully after a courageous battle with amyotrophic lateral sclerosis (ALS) on October 30, 2023, at the age of 77.
She was born on December 29, 1945, in Newark, NJ to Chester and Anne Janick, and she grew up in Mt. Pleasant, NY in the Catskill Mountains. She met the love of her life, Ross Louis Kraft, in the Catskill mountains and they were married in 1966 in Phoenicia, NY. They moved to Englewood, NJ and later moved to New Hartford, NY where they raised their family.
Lynn worked as a bookkeeper and accounting specialist for over 40 years, primarily at Hamilton Digital Controls and Richard Alexander Construction Company. She was a respected member of her profession and known for her attention to detail. She started her education in a one room schoolhouse and finished at University at Albany, where she earned a B.S. in Biology.
Lynn lived a fulfilling life and was a woman of many talents. She had a passion for cooking and baking, and her homemade dishes were always the highlight of family gatherings. She was skilled at knitting and crocheting, enjoyed reading books and loved tending to her plants and gardens in her free time.
She was a dedicated and loving wife to her husband Ross, and a devoted mother and grandmother to her children and grandchildren. She advocated fiercely for her family in all circumstances. She was a fixture at all the kids' sporting events, rarely missing a game and always being their loudest fan.
She is predeceased by her parents Chester and Anne Janick. She is survived by her husband Ross L. Kraft, brother David Janick, children Ross W (Susan) and Darren (Amy), 5 grandchildren Tyler (Monica), Natalie, Logan, Jillian and Anna, and great-grandchild Penelope who will miss her dearly.
The family would like to give special thanks to the ALS Association, University of Rochester Medical Center Neurology Dept, Team Gleason, Edna Stoltzfus, Dr. Louis Bonavita, and all our friends who provided support.
A private funeral service will be held for immediate family members. Arrangements are with Friedel, Williams & Edmunds Funeral and Cremation Services, New Hartford.
In lieu of flowers, the family requests that donations be made to Hospice and Palliative Care of New Hartford in memory of Lynn Anne Kraft. https://hospicecareinc.org/donate-online
Rest in peace, dear mother. You will forever be in our hearts and memories.
For online expressions of sympathy go to fwefh.com.
---