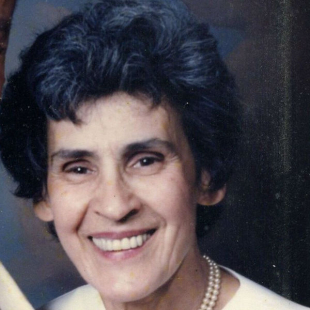 In Memory of Katherine (Katie) Panarites Brown
December 28, 1922 - December 22, 2017
Resided in New Hartford, NY
---
Visitation
No Visitation
Service
St. George Orthodox Church
350 Higby Road
New Hartford, NY 13413
Cemetery
Forest Hill Cemetery
2201 Oneida St
Utica, NY 13501
---
Obituary
print this
Katherine (Katie) Panarites Brown, just shy of her 94 th Birthday, (December 28), Passed away after a long battle with Multiple System Atrophy, at the Charles Sitrin Rehabilitation facility, a mile from where she raised her family in Sherman Hills. Katie was the daughter of James and Helen Boosalis Panarites, and grew up in Ilion working in her parents restaurant, the Ilion Kandy Kitchen, later known as the J Panarites restaurant....affectionately known to generations of Ilionites as "the Greeks".
Katie graduated from Ilion High School, received her Bachelors degree from Keuka College class of 1948, and completed her Masters at Syracuse University, and began her doctoral work at Syracuse, while working as one of the youngest Deans in the State College System at Potsdam State Teachers College.
Katie married Crist J Brown on January 1954, in Grace Episcopal Church, with in a Greek Orthodox /Episcopalian officiated service and joined him in the operation of his family's multi generational business, Utica Floral Company, one of Utica's longest contiguously owned family retail businesses until the Browns retired in 1995. Katie worked tirelessly with Crist, in the floral businesss, and their various other family owned businesses that they were involved with, Herkimer Motel (Red Roof Inn), Georgian Courts/Woodside Apts., TV Facts.
Possessed with an incredible work ethic, Katie, also enjoyed a wide range of activities, she learned to ski in Colorado in the 1940's, putting her own children on skis by 5 years old. she was a swimmer, a hiker, a tennis player, a gourmet cook, a history buff. Katie loved the Adirondacks, and for over 50 years savored time spent at the family compound on the South Shore of Fourth Lake, as well as her beloved home on Sanibel Island, Florida.
Her ethnic pride in being Greek always came through, in the 1980's she was presented an award by the American Hellenic Educational and Professional Association for her lifetime efforts of promoting and organizing the small Greek American Population in Central New York, She was a former board member of Landmarks Society, AAUW, League of Women Voters, Ladies of Estia, and remained active in Keuka College's alumni association for decades.
Katie was not only blessed with physical beauty as a young woman, but an inner goodness and " kooky " sense of humor that kept her grounded, and magnetic to a broad range of ages and personalities...paupers to princesses who all loved her.
Katie is survived by Crist, her husband of 64 years, her children and their spouses John (Christopher) and James (Susan), three grandchildren, many nieces, nephews, Godchildren, also surviving are her special Godson, Gregory Savas (Joann)Herkimer, was identified as her 3rd son, and her Brother in law, Bela"Bill" Gaspar, Frankfort. Katie was pre deceased by her parents, her brother, Constantine (Gus) Panarites, Sisters, Anastasia Panarites Sprague, and Mary Panarites Gaspar, and most of her closest friends and family. Katie had an unusually close bond with her sister Mary, and sister in law, Angie, but always identified Catherine Francis Savas, Syracuse, June "Jerry" Murray Kiefer, Old Forge and "Betty" Marketos, New Hartford, (all deceased) as her lifelong best friends, there many others alive and many passed, that shared a special bond with Katie through the years. The past few years have been difficult for Katie, but she wanted to acknowledge the staff of Sitrin Rehabilitation, especially, Amy Land, R.N., for their kindness, attention, genuine kindness and love given.
Greek Orthodox Funeral Services will be held Wednesday at 11:00 AM at St. George Orthodox Church, 350 Higby Road, New Hartford. The family will receive friends from conclusion of the service until 2:30 PM at the church following the funeral. Interment will be in Forest Hill Cemetery at the convenience of the family.
Donations in memory of Katie may be made to Panarites Sisters Scholarship Fund of Keuka College, 141 Central Avenue, Keuka Park, N.Y. 14478.
Arrangements are with Friedel, Williams & Edmunds Funeral and Cremation Services, New Hartford.
---