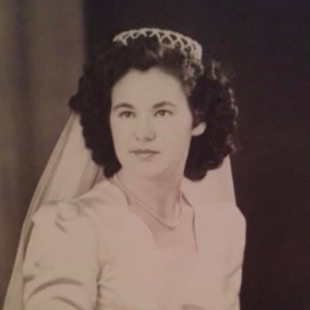 In Memory of Helen Marie Raiano
September 9, 1925 - September 22, 2021
Resided in New Hartford, NY
---
Visitation
New Hartford
13 Oxford Road
New Hartford, NY 13413
Service
St. Thomas More Church
738 Robert St.
Utica, NY 13502
Cemetery
Calvary Cemetery
2407 Oneida St
Utica, NY 13501
---
Obituary
print this
Helen Marie Raiano (née Zambon) left this world peacefully September 22, 2021, at the age of 96 years, thirteen days. Born the fifth of eleven children in Chadwicks, NY on September 9, 1925 to Amadeo and Irene Zambon (Doyle), she was a firecracker of Irish and Italian who illuminated the lives of every person who met her.
She grew up during the Great Depression. Her formative years were shaped by the values of selflessness and goodwill that typified America, and she was a fierce advocate of her country's many virtues and blessings, expressing her allegiance throughout her life. Her children recall Helen's Saturday morning reveilles on her bugle as her husband Luke raised the flag in the front yard of the loving home they built in 1970.
Helen married Joseph A. DiRuzzo in 1947 and welcomed Joseph, Jr., John, Mary and Theresa. She married Luke Raiano in 1968 and welcomed Luke, Jr. She raised her children on three guiding principles: faith, family, and food. A devout Roman Catholic, Helen cherished the Blessed Mother and the Latin Mass. Her faith was her saving grace throughout her life. She had a strong moral compass, and was an impeccable judge of character. She lived her life by the Golden Rule: in the 1960s, she welcomed inner-city children from the Fresh Air program into her home, setting an example of compassion, respect, and equality.
Helen was no stranger to hard work. She worked at Utica Cutlery during World War II, making, among other things, bayonets, and later, waited tables. A multi-hyphenate entrepreneur before it was fashionable, her career endeavors included: a family fruit stand, a poultry market, and a ceramics shop. She later added restaurateur to that list, running the Pan E Vino with her husband in Washington Mills.
Her gracious and generous attitude was expressed, among other ways, in her zeal for celebration; friends and family recall the festive beads she always gifted. Helen was very close to her sisters. She was deeply involved in the American Legion Auxiliary, and the Central New York Right to Life group. She marched in Washington, D.C., in bitter January cold, to advocate for the unborn. She also served as president of the Utica Women's Republican Club.
Helen was whip-smart, with a special passion for history. In her sixties, she took history classes at MVCC. When she corrected a professor regarding the Great Depression, he asked how she would know. "I was there," she told him. In childhood, she once sat on the lap of Civil War veteran.
Helen had a streak of creativity that ran through her entire life. She made hundreds of ceramic pieces in her kiln; she was a fantastic cook; she loved literature. Her love of writing blossomed in her later years when she became a published poet. Through Our Mother's Eyes: The Collected Works of Helen M. Raiano, is a cherished family tome. She loved to sing and was a real capa tosta.
Helen's fourteen grandchildren were her greatest joy in life. Six great-grandchildren only deepened that joy. Her three oldest grandsons held a particularly special place in her home and heart. They all miss her keenly.
Helen was a colorful mosaic of a woman, wife, mother, sister, grandmother, aunt and friend. She imparted many lessons, of love and living and joy, to all she knew. She taught her children to look for the crocuses under the snow in the early days of springtime. They were as resilient, indomitable, and as beautiful as her spirit.
Helen is survived by the family she loved deeply: children Joseph DiRuzzo, Dallas, TX; John DiRuzzo and wife Suzanne, Verona, NY; Mary DiRuzzo, Cincinnati, OH; Theresa DiRuzzo-Hernandez, Dallas, TX; and Luke Raiano, Jr., and wife Kari, Milford, NH. She is also survived by her grandchildren: Joseph, Jonathan and Jeremiah DiRuzzo; Natalie DiRuzzo-Watson; Noelle DiRuzzo; Leyla and Darius Shokoohe; Elise Hernandez-Borders; Emilyn, Mary Catherine, Annie and Arianna Hernandez; Katherine and Caroline Raiano; great-grandchildren: Francesca and Felicity DiRuzzo; Madden Watson; and Peter, Charles and Dominic Borders; and sisters Margaret Hillman, Mary Simons, and Sandra Doyle
Calling hours will be on Friday, October 8, from 6:00pm to 8:00pm at Friedel, Williams & Edmunds Funeral and Cremation Services, 13 Oxford Rd, New Hartford. A funeral mass will be held on Saturday, October 9, at 9:30am at St. Thomas More Roman Catholic Church, 738 Roberts St, Utica. Interment will be in Calvary Cemetery.
In memory of Helen please consider a donation in her memory to The Daughters of Mary convent: https://www.daughtersofmary.net
---