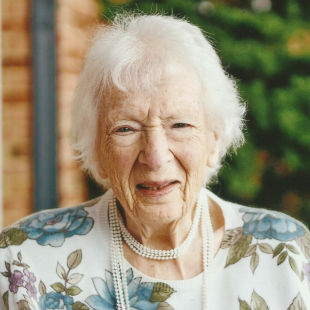 In Memory of Helen Joan Calvert May
December 9, 1925 - September 2, 2022
Resided in Lynchburg, VA
---
Visitation
No Visitation
Service
No Services
Cemetery
Forest Hill Cemetery
2201 Oneida St
Utica, NY 13501
---
Obituary
print this
Helen Joan Calvert May ("Joan"), age 96, died peacefully on September 2, 2022 in Lynchburg, Virginia, in the arms of family and the loving thoughts of those friends and family who could not be with her.
Joan was born on December 9, 1925, in Pittsburgh, PA, the daughter of William A. Calvert, DDS, and Helen Carnahan Calvert. She lived in Pittsburgh until her teen years when the Calvert family relocated from Pittsburgh to the more rural Greenville, PA community. Joan loved the opportunities presented by living in an urban setting such as Pittsburgh, where adventure awaited at every bus stop, and moving to a rural community was a dramatic life change for her. Following her graduation from high school in Greenville, PA, Joan earned a degree in Secretarial Science from Grove City College. When an opportunity to move to Chicago presented itself, along with her interest in moving to an exciting urban environment, she took it with great glee. While in Chicago, Joan met a handsome engineering student, John Caton May, on a blind date, whom she later happily married on September 10, 1949.
Joan and John moved from Chicago to Washington, DC, Ithaca, NY and finally to New Hartford, NY where they remained until John's death in 1993. While living in New Hartford, Joan and John were actively involved in the community and the New Hartford Presbyterian Church, where Joan served in many roles, including membership on the Board of Trustees and the Finance Committee.
Joan resumed full time employment in 1976, taking a position at Hamilton College in Clinton, NY. She later took a position at Metropolitan Insurance in Utica, NY, from which she retired as a financial analyst with the company. She moved to Lynchburg, VA and was one of the original five residents of The Summit when it first opened in 2003 and remained there until her death. While in Lynchburg, Joan enjoyed the welcoming community of both the staff and residents of The Summit and the Saint Andrew Presbyterian Church in Forest, VA.
Joan was perhaps best known for her love for travel and adventure. In her own words, Joan once wrote "I do admit to being tempted beyond reason to go anywhere it is possible to go." And go she did! She gained some local notoriety when, in 1972, determined to travel, she saved enough S&H Green Stamps to finance a trip to Europe. Following that international excursion, she visited multiple continents and held a particular fondness for Hawaii, a destination she visited numerous times.
Joan was greatly loved and will be deeply missed by her family and friends. Joan was predeceased by her beloved husband, John, and her brother William A. Calvert, Jr. Together, Joan and John raised a family of five children: David (Karen) May, of York, Maine, Priscilla (Michael) Elsass, of Austin, Texas, Daniel (Ina Gustafsen) of Denver, Colorado, Peter (Carolyn) of Brewerton, New York and Paul (Kathy) of Forest, Virginia. Joan also enjoyed the love and affection of eleven grandchildren and eight great grandchildren.
Joan's family would like to express appreciation and gratitude to the staff and residents at The Summit for their companionship and the excellent care she received, both during her final days and for her many years of residence at The Summit.
A memorial service will be held on September 16, 2022 at 2:00 at Saint Andrew Presbyterian Church in Forest, VA. A graveside service will be held on October 7, 2022 at 11:00 in Forest Hill Cemetery in Utica, NY. Funeral services will be coordinated by Tharp Funeral Home of Lynchburg, VA and Friedel, Williams and Edmunds Funeral Home of New Hartford, NY.
In lieu of flowers, please consider contributions to the Saint Andrew Presbyterian Church in Forest, VA or the New Hartford Presbyterian Church in New Hartford, NY.
---