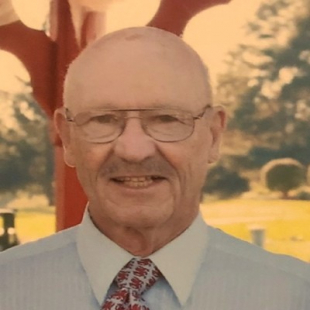 In Memory of George C. Harris
April 26, 1927 - January 24, 2021
Resided in Utica, NY
---
Visitation
Private Visitation
Service
No Services
Cemetery
French Road Chapel Cemetery
Faichild Rd.
Remsen, NY 13438
---
Obituary
print this
George C. Harris, a native of Utica and formerly of Marcy, Kayuta Lake and New Hartford, died Sunday, Jan. 24, 2021, at the Masonic Care Community in Utica. He was 93.
George was born April 26, 1927, in Utica, son of George H. and Florence Carr Harris, and attended Kemble and Hughes schools before graduating from Utica Free Academy. Following high school he enlisted in the US Navy during World War II and was assigned to the paralysis unit at St. Albans Naval Hospital in Queens where he served as a corpsman.
He was honorably discharged in 1946 and attended Mohawk Valley Technical Institute where he studied engineering.
On July 16, 1949, he was married to Jane Elizabeth Rogers in Redeemer Lutheran Church by the Rev. Arnold F. Keller, a blessed union of 65 years until Jane's death in February 2015.
George was employed by the New York State Department of Transportation for 40 years, during which time he worked on the construction of the state Thruway, the original North-South Arterial, and other major local road projects. He retired as assistant highway maintenance supervisor for Region II. He also did land surveying for housing developments in New Hartford, Whitesboro, Deerfield and Utica.
George was active in many organizations, and was most proud of his membership in the local chapters of the Society for the Encouragement and Preservation of Barber Shop Quartet Singing in America (SPEBSQSA), one time earning the honor of Barbershopper of the Year. He was also a member and director of the NYS Highway Engineers, the NYS Civil Service Employees, the NYS Retired Public Employees, the American Legion and the Masons Utica Lodge 47.
Church affiliations were many. He was baptized at Westminster Presbyterian Church in Utica and served in choirs and on councils at several area churches throughout his lifetime, including Redeemer and later, Our Saviour Lutheran, and New Hartford and Boonville Presbyterian churches.
George's Utica roots ran deep. His grandfather George came to Utica in 1873 from Kent, England, and operated a bakery on Oneida Square and in other locations and was also an accomplished singer, having composed a number of ballads. George's father, also named George, was a well-known singer and trumpet player, founded the first male quartet at Utica Free Academy and performed in area theaters. He and his wife ran a candy store – Carr's Candy – founded by her parents on Lafayette Street, across from Hotel Utica. Their candy was famous throughout the state.
George carried on the musical talent as a barbershop singer and church choir member.
George is survived by three daughters – Jan (David) Dudajek of Whitesboro; Jill Harris of Baldwinsville, and Judi (Fred) Kiefer of Phoenix, NY. He is also survived by 8 grandchildren – Jaime (Jess) Dudajek-Burgdoff of Whitesboro; Sarah (Jodie) Dudajek-Bush of New Hartford; John Catalano (Melissa Borelli) of Tampa, Fla.; Joelle (Chris) Campbell of Syracuse; Jarett Catalano of Liverpool; Shannon (John Parker) Kiefer of Pennellville; Bridget (William) Godfrey of Phoenix, and Fred (Linzy) Kiefer of Pennellville, and 12 great-grandchildren. Also surviving are several nieces, nephews and cousins.
In addition to his wife and parents, he was pre-deceased by four sisters – Jeanette (Ted) Maus, Virginia (Howard) Partlow, Natalie (Howard) Jones and Betty (Robert) Agne, and two brothers – Robert (Nancy) and Richard (Kathy) Harris.
George was the sparkplug of the Harris family, noted for his good nature, even temperament and his famous "barbershop grin." Among his precious times are his years spent in retirement at Kayuta Lake with his wife, entertaining their grandchildren, and winter months spent in New Smyrna Beach, Fla.
George will be greatly missed but fondly remembered by many, particularly his three daughters, all of whom remained steadfastly devoted to the very end, scheduling regular window visits at the Masonic Home during the Covid crisis. They wish to thank the accommodating staff in the home's Amherst unit, particularly Dr. Kevin McCormick, Nancy Robbins, Gail Marhaver, Tammy Shephard, Sandy Kleek, Malinda Vogel and Jay Snow and for their deep concern and wonderful care.
There will be no calling hours. An outdoor memorial service will be held on Sunday, June 20 at 1:00 pm in the French Rd. Church Cemetery on Steuben Rd in Remsen. Arrangements are being handled by Friedel, Williams & Edmunds Funeral and Cremation Services.
Those wishing to make donations may send them to the Masonic Care Community, Office of Philanthropy, 2150 Bleecker St., Utica, NY 13501, or the First Presbyterian Church of Boonville, PO Box 213,, Boonville, NY 13309.
---