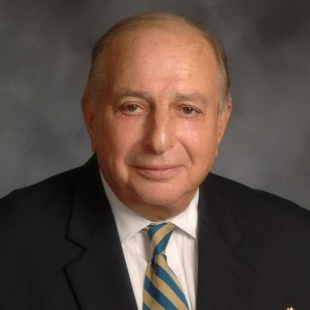 In Memory of Francis Eugene Romano
January 7, 2023
Resided in New Hartford , NY
---
Visitation
Church of Our Lady Lourdes
2222 Genesee St
Utica, NY 13502
Service
Church of Our Lady of Lourdes
2222 Genesee St.
Utica, NY 13502
Cemetery
Forest Hill Cemetery
2201 Oneida St
Utica, NY 13501
---
Obituary
print this
Francis Eugene Romano
"When a great man dies, for years the light he leaves behind him, lies on the paths of men." – Henry Wadsworth Longfellow
Entrepreneur, industrialist, philanthropist, family man and lifetime local resident Francis Eugene (Gene) Romano passed away peacefully in his beloved hometown of Utica, New York on January 7, 2023 with his loving family by his side. Gene was born October 29, 1928 in Utica, the son of Michael Angelo and Mary Carmella (DiPerna) Romano. He attended Utica public schools and Mt. Assumption High School in Plattsburg, NY. At the age of 16 he enrolled at Hamilton College, receiving a B.A. in 1950 with a double major in Chemistry and History, and later served in the U.S. Army Field Artillery during the Korean War.
Gene's penchant for innovation and success began at the age of 12, when he sold the Sunday New York Times in front of Our Lady of Lourdes Church on Genesee Street and then expanded to a home-delivery route that he eventually sold the rights to. Gene and his lifelong best friend, co-conspirator and business partner Crist Brown, devised numerous businesses involving truckloads of bananas, mistletoe and a railroad car full of fishing rods to sell. His first post-college position was at Utica Drop Forge purchasing steel. Because of his chemistry background, he was later invited to join a task force that worked with the Pentagon to develop a special alloy to increase the efficiency of jet engines to help in the Korean War effort. This venture led to the funding and founding of Special Metals.
His numerous business endeavors that followed exemplified Gene's proclivity for vision and innovation, his strong sense of community and his love of family. He oversaw the impressive transformation of the Howard Johnson Hotel in San Juan, Puerto Rico into the Ambassador Plaza Hotel and Casino. Gene acquired the former D.B. Smith & Co. of Utica and reinvented it into The Fountainhead Group in New York Mills. With keen vision Romano successfully acquired and developed numerous real estate holdings in Utica, the Adirondacks, the Caribbean, New York City and elsewhere. While Utica remained his home, Gene truly made his mark wherever he went. His greatest pride was founding and energetically guiding the Pacemaker Steel and Piping Co. operation for over sixty years, having taken the helm on April 1, 1956 while he was still in his twenties. Through his leadership, Pacemaker went on to acquire Utica-established businesses Charles Millar & Son Co., Colerick Supply, and Mather Evans & Diehl. While he considered all his team members to be family, his Pacemaker family held a special place in his heart. Gene was proud to work alongside and mentor his children Linda and John in many of his business pursuits, and they are equally proud to carry on the Romano family businesses and philanthropy.
Gene had a profound commitment to the local community that he loved and it is not practical to list here the scores of charities he supported through his civic and charitable contributions. Notable gifts that held special significance to Gene include those to New Hartford Public Library (the Jeanne L. Romano Annex), Utica University (the F. E. Romano Science and Technology Center), his alma mater Hamilton College (the F. Eugene Romano Theater), Wynn Hospital, Stanley Theater, Utica Symphony Orchestra, and Utica Boys and Girls Club. Other organizations important to Gene that he generously supported include St. Luke's Hospital, St. Elizabeth Hospital, Faxton Hospital (the F. E. Romano Family Radiation Oncology Department), local veteran organizations and Masonic Medical Research Institute, for which he served with Dr. Ted Max as co-chair for a major capital campaign. His philanthropy extended beyond Utica, as he gave generously to every community where he had a presence.
In his private life, he found his greatest joy in his family. Gene cherished his Italian background and spoke frequently of the traditional Sunday dinners he so much enjoyed when his family lived on Rutger Street in a home owned by his maternal grandparents, Vito Antonio and Alessandra (Germano) DiPerna. Every year he took his young children to Ocean City, New Jersey, and his children continue that tradition to this day with their children. He looked forward to spending winters at his villa in Puerto Rico and summer weekends surrounded by family at his waterfront camp on First Lake, challenging his grandchildren on the tennis court and taking them on boat rides. Gene was a talented pianist, an expert in the difficult technique of stride piano. At the age of 13 he was performing nightly at local clubs, and eventually at jazz clubs in Miami and Chicago. Later in life, he entertained family and friends when he would sit down at a piano and play to the amazement and cheers from all. His love of music and art was a source of much happiness that lasted his entire life. He was a longstanding member of the Yahnundasis Golf Club, the Fort Schuyler Club, and the Sadaquada Golf Club. While most will remember Gene for his philanthropic interests and business acumen, his family will remember his sharp wit, his vibrant storytelling, his frog collection, and his infectious belly laughs.
Mr. Romano is survived by his beloved children, Linda (Russell) Romano Petralia, John (Jacqueline) Romano, Patrick (Martha McCoy) Scully, Colleen (Roger) Scully Ribble and his honorary son Timothy (Cindy) Reed. He will be dearly missed by his beloved grandchildren Alessandra (Jimmy Handrinos) Romano, Jacqueline Romano, Michael (Samantha King) Romano, Francesca (August) Groth, Alexandra Romano, Whitney Petralia, Francis E. Romano II, Corinne (Robert Simpson) Ribble, Andy (Adria) Ribble, Brian (Carrie) Ribble, Katie (Kyle Newby) Ribble, and Dominic (Emily Scharf) Corelli ; his great-grandchildren Benjamin Simpson, Molly and Margaret Newby, Lucy, Grace, Patrick and Nathan Ribble, Alyssa and Johnny Taylor; his brother- and sister-in-law Rev. James (Lani) Ulrich; first cousin Victor (Annamarie) DiPerna and several cousins, nieces and nephews.
Mr. Romano is also survived by his wife, Loretta Massoud Romano, her children Maria (James) Mody-Jones and Patricia (William) Virkler, and grandchildren Angelina, Audrianna, and James Jones and Billy, Alyssa, and Patrick Virkler.
He is predeceased by his beloved son, Dr. Michael Romano; his sister and brother-in-law, Jocelyn and Raymond Candido; his first loving wife and mother of his three children Madelyn Bartelson Romano and his second beloved wife Jeanne Louise Ulrich Romano.
While Gene made so many friendships throughout his life, the family would like to acknowledge the special camaraderie he enjoyed with the Rayhill, Gaetano and Brown families, Al Mazloom, Dan Ferguson, his Delta Upsilon fraternity brothers, the Cohen family of Old Forge and many friends in Old Forge and Puerto Rico. We would also like to acknowledge the love and respect Gene had for all employees of Pacemaker, especially Rich Evans, Jeff Ulrich, Joanne Croop and Jim Siepiola.
Many thanks are bestowed by the Romano family to all his caregivers, especially his chief caregivers and dear friends Ernesto and Nereida Sierra who relocated their family here from Puerto Rico so that he could live out his days comfortably in his home with constant and trusted care. The family would also like to extend special thanks to the caring staff at MVHS, especially to Dr. Brian Gaffney, Dr. Michael Kelberman, Dr. Dilip Kachare and the team in the intensive care unit.
Visitation will be at Mary Mother of Our Saviour Church, (Church of Our Lady of Lourdes), 2222 Genesee Street, Utica on January 16th from 10:00 a.m. – 12:45 p.m. with Funeral Mass immediately following at 1:00 PM. The funeral will also be lived streamed at: https://YouTube.com@JoeSalernoOLOL
In lieu of flowers, please consider a donation in Mr. Romano's name to The Romano Entrepreneurs Fund at Hamilton College, the Jeanne Louise Ulrich Romano Memorial Scholarship at Utica University, or to one of his favorite charities named above.
Online messages of sympathy may be left at: www.fwefh.com
Arrangements are in the care of Friedel, Williams & Edmunds Funeral and Cremation Services, New Hartford.
---