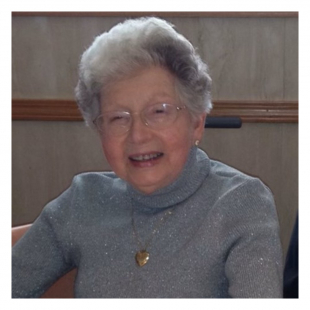 In Memory of Elta (Penny) Cammiso
October 30, 1924 - March 30, 2021
Resided in New Hartford, NY
---
Visitation
No Visitation
Service
St. Thomas Church
150 Clinton Rd.
New Hartford, NY 13413
Cemetery
Calvary Cemetery
2407 Oneida St
Utica, NY 13501
---
Obituary
print this
Elta (Penny) Cammiso Passed away peacefully on March 30, 2021, at The Siegenthaler Center in New Hartford.
Penny was born in Tishomingo, Oklahoma on October 30, 1924. She was the youngest daughter of Jade and Nora Pennington who had a family of nine children. Penny attended school, and for some time college, at Tishomingo, but was awarded a scholarship to the National School of Business in Oklahoma City. After graduation Penny went to California where she visited her sister and was employed by a bank in Pasadena. She was called home to take a job at First State Bank due to the shortage of men because of World War II. Penny loved working in California and reluctantly moved, but later was glad when she met Donato (Danny) Cammiso who was a Utica N.Y. soldier stationed at her local college. They fell in love, and when the war ended, he requested to be marshaled out of the Army Air Force in Oklahoma where he picked up Penny in Tishomingo. They returned to Utica N.Y. and were married January 5, 1946 in St. Anthony's Church. Danny went to college under the GI Bill and Penny was employed by First Bank of Utica. She was later recruited for a job with National Auto, a N.Y. corporation headquartered in New York City. Penny loved working at National Auto, and with her exceptional dedication, professionalism and work ethic, was a highly respected and valued member of the company's management team. She remained with the company when it was bought out by Whitlock Auto, and after 32 years retired from there as director of Personnel in 1987.
Penny and Danny had two sons, Donald (now in Delaware) and Michael (now in Marcy, N.Y.)
They built a home in Deerfield in 1957 and remained there until her job transferred her to Clay N.Y. in 1983. In 2007 Penny and Danny returned to Utica and were the first occupants of Preswick Glen retirement community in New Hartford. Her husband passed away in July of 2016 and Penny moved to the Presbyterian Residential Center in 2017.
Friends are welcome to join the family at a Mass being said at St Thomas Church, 150 Clinton Road, New Hartford on Thursday at 12:30. Entombment will be in Calvary Mausoleum in Utica. Arrangements are with the Friedel, Williams & Edmunds Funeral and Cremation Services, 13 Oxford Rd., New Hartford.
In lieu of flowers, please consider a donation to the Siegenthaler Center in memory of Penny.
---