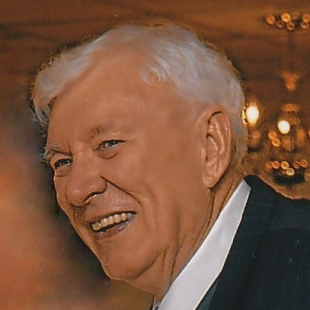 In Memory of Earl A. Leach, Sr.
September 8, 1924 - April 4, 2019
Resided in Utica, NY
---
Visitation
Utica
1123 Court Street
Utica, NY 13502
Service
Trinity Lutheran Church
2620 Genesee St.
Utica, NY 13502
Cemetery
Forest Hill Cemetery
2201 Oneida St
Utica, NY 13501
---
Obituary
print this
Utica – Earl A. Leach, Sr., 94, went home to be with the Lord April 4, 2019 at St. Elizabeth Medical Center surrounded by his loving family.
He was born September 8, 1924, in Utica, the only child of Arthur R. and Margaret (Smith) Leach. He was a graduate of  Utica Free Academy. Earl served in the U.S. Navy during WWII in the South Pacific on PT Boat 155, and later in the Korean War in the Amphibious Branch aboard the USS Casa Grande. He married Elinor Dysart on November 30, 1946, in Utica. They resided in Brewer, ME for two years where he worked as a milkman for Footman Dairy. The couple had enjoyed nearly 63 years of marriage when Mrs. Leach passed away September 3, 2009.
Mr. Leach was a 25-year member of the Utica Fire Department, starting as a firefighter on 2 Truck and retiring as Chief Fire Dispatcher in 1978.  He later worked as an insurance inspector, then for 10 years as office manager for Love In The Name Of Christ (LOVE, Inc.). He was a life-long member of Trinity Lutheran Church and Police & Fire Retirees of NYS.
Earl enjoyed spending time with his family, camping and canoeing in the Adirondacks, attending church and Sunday school, family picnics and watching fireworks. He greatly enjoyed his yearly train trips with his wife to Florida to visit his son and family. He was a worthy opponent at card games, especially pitch, hearts, and cribbage. For relaxation, he liked to do scenic paintings, build models and watch John Wayne movies.
He loved his grandchildren and lovingly spent time with them, reading to them, flying kites, telling stories about his life and playing games with them.  He so enjoyed being with all his great-grandchildren.  He left us a wonderful legacy and he will be missed.
He leaves three children, Earl Leach, Jr. and his wife, Charmaine, of WI, Elaine Fuller and her husband, David, of Utica, and Judith Leach, of Utica; six grandchildren, Cameron (Tiffiny) Leach, Colleen (Victor) Martinez, Cory Leach, Brendan Leach, Mark Leach and Laurel Zimmer, and Autumn Leach and Eric Mehsikomer; 13 great-grandchildren, Winonah, Giniw, Dawn, Miriam, Ode', Meme, Victor, Justin, Mikayla, Madison, Maverick, Abby, and Ivy; cousin Loretta Leach Moccaldi; special friends Karen and Dan Kuhn and Betty Brady; honorary grandchildren Stephen and Patrick (Jennifer) Kuhn; and feline buddies Pip and Dom.
His funeral will be Friday, April 26th at 12 noon at Trinity Lutheran Church, 2620 Genesee Street, Utica. Interment will follow in Forest Hill Cemetery. Visitation will be Thursday, April 25th, 4-7 p.m., and Friday, April 26th, 9-11 a.m. at Friedel, Williams & Edmunds Funeral and Cremation Services, 1123 Court Street, Utica. Friends may consider a donation in Earl's memory to PT Boats, Inc., POB 38070, Germantown, TN 38183. Online messages of sympathy may be left at www.fwefh.com.
---