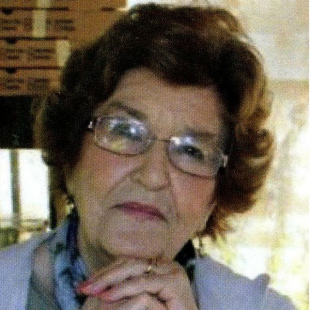 In Memory of Carmel (Cam) S. Sullivan
February 3, 2020
Resided in New Hartford, NY
---
Visitation
New Hartford
13 Oxford Road
New Hartford, NY 13413
Service
Church of Our Lady of Lourdes
2222 Genesee St.
Utica, NY 13502
Cemetery
St. Mary's Cemetery
St. Mary's Ave.
Clinton, NY 13323
---
Obituary
print this
Carmel S (Cam) Sullivan, Utica teacher and educator, long-time board member of Utica organizations including The Landmarks Society and the Community Food Bank, as well as of the Judges Council of the National Garden Clubs, Fifth District NY, passed away at her home on Monday under Hospice Care.
Mrs. Sullivan began her career as an educator in 1964, volunteering as an art education docent at Munson Williams Proctor Art Institute where she discovered and continued to explore art interpretation. After taking a series of art history courses at Utica College, she concluded, "I've been bitten," according to her son Anthony Sullivan, recalling the enthusiasm conveyed by some of her early instructors including Easton Pribble, Vincent Clemente and Henry DiSpirito.
She continued as a docent for eight years, while her association with MWP remained lifelong through periodic lectures, organized trips and classes in drawing, painting and metalworks.
Carmel (Vastano) Sullivan was born in Brooklyn, NY, the second of four children of Antonio and Celestina Vastano. Her father was an immigrant who rose to become the civilian head of the Brooklyn Army Base, the largest eastern port at the time shipping armaments and provisions in support of both US Troops and Allied countries during the war efforts of WWII.
She was an Alumna of Pratt Institute, Brooklyn and began her working career in New York City starting in the editorial department of McCall's Magazine as a staff researcher.
Later jobs in advertising and sales promotion required her travel across New York and neighboring states which resulted in her taking a new position with General Electric in Schenectady, NY. Working at GE she met and later married C. Arthur (Art) Sullivan.
Art and Cam Sullivan began their family in Schenectady, raising their three sons, and eventually moved to New Hartford in 1960. They were married for 55 years.
In the course of settling in the Utica area, Mrs. Sullivan pursued her community and civic interests. She joined Seed and Weed Garden Club in 1964, and served as club president ('67-'68). Many public and green space improvement projects along Genesee St, the Parkway and Forest Hill Cemetery were undertaken during her 54 active years as club member.
During her years with garden club she became an Accredited Judge and Master Judge of the National Garden Clubs, achieving the status of Master Judge Emeritus in 2017. As Master Judge she served as a Board Member of the Fifth District Judges Council.
In 1970, Mrs. Sullivan pursued her interests in public education, first as a substitute teacher in Utica schools including Utica Free Academy and Utica Catholic Academy. She taught at BOCES for two years while working at her teachers' certification at SUNY Cortland.
She received her Bachelor of Science in Human Development in 1973 from Syracuse University, graduating with high honors from the College of Human Services and Health Professions. She was inducted into the Syracuse University Chapter Phi Kappa Phi Honorary Society.
In 1974 she began her 17 year public school teaching career at John F Hughes School teaching 7th and 8th Grade, starting in Home Economics which she later developed as a two year curriculum in Human Development. During her JF Hughes years she was inducted into Delta Kappa Gamma International, an association of professional educators with the mission to promote quality education.
Reflecting on her approach to teaching and in raising her own children, her son Charles noted, "She always taught her children to have a broad view of the world and to be willing to learn new things."
Post retirement, she was nominated in the mid-nineties, first to the board of the Community Food Bank and later to the Landmarks Society Board. In recognizing her contributions to Landmarks, Lou Parrotta, former Landmarks President noted, "I have watched this wonderful woman at work and people are so enamored by her infectious smile, genuine enthusiasm, and deep appreciation for each and every landmark in the greater Utica area that they cannot help but join [Landmarks Society]." She retired in 2017 as Board Member Emeritus.
She leaves behind her three children, son Charles and wife Perla; son Anthony; and son Brian and wife Monica.
The funeral will be on Saturday at 10:00 am at the Church of Our Lady of Lourdes, 2222 Genesee St, Utica, where a Funeral Mass will be celebrated. Interment will be in St. Mary's Cemetery, Clinton in the spring. Calling hours will be on Friday from 4:00 pm to 7:00 pm at the Friedel, Williams & Edmunds Funeral and Cremation Services, 13 Oxford Rd., New Hartford.
In lieu of flowers, contributions can be made to Hospice and Palliative Care, Inc., Community Food Bank and The Landmarks Society.
---