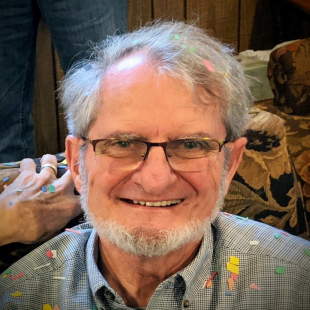 In Memory of Carl Edward "Ed" Grove
September 26, 1946 - August 28, 2022
Resided in Sauquoit, NY
---
Visitation
Old Path Farm
9035 Grange Hill Rd
New Hartford, NY 13413
Service
Old Path Farm
9035 Grange Hill Rd
New Hartford, NY 13413
Cemetery
No Cemetery
---
Obituary
print this
On August 28, 2022 Carl Edward "Ed" Grove, 75, passed from this world peacefully a few feet from his beloved Cayuga Lake, fixing a woodsplitter, parts in hand. He had spent the day before merrily zooming his grandniece and nephew around on the boat, and the week before he was precariously perched on the boat lift rooftop mounting a weather vane on the peak.
Ed was born on September 26, 1946, the third of four sons of Floyd Wheeler and Doris (Reynolds) Grove. After surviving a fall from the top of a 40 foot silo as a young boy, and the loss of his father a few years later, Ed moved from the small rural road named after the family into the village of Trumansburg in the Finger Lakes. In T-burg, he made lifelong  friendships with Ted Wixom and Jim Carroll among others, and most significantly his "Bud" of almost 60 years – Carole Huttar.
Ed and Carole married after college, with Ed somehow convincing Carole to Put Hubby Through while he earned his graduate degree in Electrical Engineering at Michigan State. While some might argue getting a Ph.D. was an accomplishment, Ed and Carole both insist the best thing to come from their time at MSU was a devotion to Big Ten college football.
His doctorate led to a career designing radars at GE in Utica and beyond, as Ed was sent by GE across the US and Europe. Little did GE know that all that business travel away from family would lead to a frustrated 3 A.M. phone call from a hotel room in Los Angeles back to a bagel shop in New York for advice on how to start his own shop. Would that we could be a fly on the wall when Ed came home from this trip and proposed to Carole that he quit his career and instead open a bagel shop! Their timing was perfect and generations of Uticans consider Bagel Grove synonymous with traditional bagels. On errand trips, Ed brought bagels to the mechanics, lumber yard, and barbershop and he beamed with pride when Bagel Grove's reputation preceded him around town. But did you know when Ed was contemplating leaving GE that it was a narrow choice between bagel shop and ice cream stand? Ed wisely decided some things are best left as hobbies, and ice cream was one he pursued with a passion.
After retiring from the bagel shop, he never lost one drop of his vigor and lust for life, instead diving into new pursuits like welding, cooking, and hiking the Louis & Clark Trail out west and the Gold Rush trail in Alaska, which he documented in self-published travelogues. He passionately devoted his creativity, carpentry, electrical, and plumbing skills to helping his daughter build Old Path Farm and preserve the farmland on his beloved Butler Road. On his legendary to-do lists you might find boiling maple syrup, cooking a pot of soup for the warming center in Utica, teaching the virtues of Fair Trade Coffee, hosting a neighborhood gathering, practicing guitar and vocals for an upcoming band performance, and firing up his homemade sauna. Or maybe you'd see Ed earning his reputation for thriftiness by updating his spreadsheet to compare the relative cost and quality of various toilet paper brands, or regularly dropping off thousands of nickel bottles and cans for the Food Bank.
Ed's religion was berry-picking and his sacred moments were sharing coffee with Carole watching the sun rise over the Sauquoit Valley every morning and drifting off to sleep watching sunsets, bourbon in hand. His relentless battle against red squirrels in the barn was balanced with his tender feeding of chipmunks, orioles, and hummingbirds. He fixed the dryer with a skateboard wheel, built most of the furniture in the house (not to mention much of the house itself), memorized and recited poetry, and motorcycled across the country. In his spare time, he churned butter, brewed elder blossoms, and proved that wild grapes can indeed yield a fine homemade wine. And this is just the tip of his creative iceberg.
Through the years, Ed served as president of the Mohawk Valley Center for Refugees, unofficial assistant to the Financial Secretary of Zion Lutheran Church, and director of the search effort for Sara Anne Wood, but most of his time was spent with Your Neighbors, Inc., an organization his wife Carole founded dedicated to helping home-bound people stay in their homes through visitation, rides, and meals. For weeks every year, Ed would drag anyone he could find to help him cart truckloads of donations up and down staircases for the annual Your Neighbors Garage Sale. He had an easier time finding volunteers to help with the annual Chicken Barbecue due to his strategic supply of beer at the BBQ pit.
And now, we are Ed's After Life, for he lives in each of us who knew and loved him. Chiefly among those, are his mother, Doris, who is 102 and still kicking. Upon observing one of his famously mountainous tirades over mole-hill frustrations, Doris calmly and memorably observed "That Ed. He tries so hard." And earning a lifetime achievement award for tolerating decades of mountainous tirades is his life-partner and "Bud" Carole. Ed lives on in his and Carole's children: David Edward, Stephen (Janelle JohnsonGrove), Matthew (Elissa Johnson), and Nancy (Peter Bianco), and their grandchildren: Savannah, Clara, Miriam, and Ian whose names he sung in a grace before family meals. Ed lives on in his brothers, Floyd ("Chip") and Bill, and their families, and many nieces and nephews. Ed carried the life of his equally eccentric brother John and dear friend from GE Ron Lacourse, both of whom passed on before him. His neighbors on Butler Road and bandmates in LegUp (Billy, Jackie, Paul, and Pete) will likewise carry on his life, as will the countless others who crossed his path over the years.
We warmly invite you to share how you will carry on Ed's life and remember the joys and challenges of loving and knowing this special man at Calling Hours to be held at Old Path Farm at 9035 Grange Hill Rd, New Hartford, NY on Friday September 2 from 2pm to 6pm. A brief funeral service will immediately follow at 6 pm, Ed's friend Rev. Ed Townsend officiating. A convivial and music-filled celebration of Ed's life will occur on September 25, 2022 from 1-4 p.m at the Barn on Paris Hill, behind Three Steeples Church, 2817 Old State Route 12, Paris Hill, NY 13456.
In lieu of flowers, please donate to Your Neighbors, Inc. and The Barn at Paris Hill, by mailing your donations to the family at 9148 Butler Rd., Sauquoit, NY 13456.
---