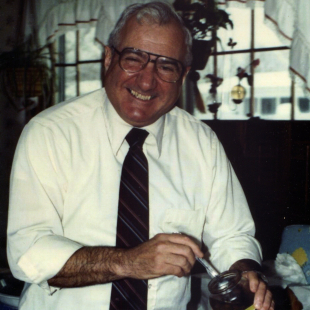 In Memory of Carl Del Buono
February 12, 1930 - February 25, 2023
Resided in New Hartford, NY
---
Visitation
New Hartford
13 Oxford Road
New Hartford, NY 13413
Service
No Services
Cemetery
No Cemetery
---
Obituary
print this
Carl Del Buono, 93, of New Hartford, passed away February 25, 2023 peacefully in his home surrounded by his family.
He was born February 12, 1930, in Brooklyn, NY, son of the late Carlo and Mae Brancato Del Buono. He graduated from Proctor High School class of 1948, received his Bachelor's Degree from Utica College and went on to earn his Doctor of Jurisprudence from Syracuse University, School of Law.
Carl began his Law career with Allstate Insurance until he was introduced to the Capecelatro & Capecelatro law firm and specialized as a criminal defense trial attorney. In 1965, Carl proudly became a partner of the firm which was renamed and thereafter known as Capecelatro, Capecelatro & Del Buono. The firm continued to grow into Capecelatro, Del Buono, Vaughn & Compson. In 2000, Carl started a partnership with David Diodati in the firm of Del Buono Diodati and was a close associate in business with Leslie R. Lewis. Continuing his passion for law, he served as Law Clerk to the Honorable Michael L. Dwyer until his retirement in 2014. Carl always considered Michael Dwyer a close personal friend and remained close with all of his former partners and their families. His love of law always found its way to anyone who sought out his expertise. In true form, to help those in need, he served on the board of the Insight House for over 20 years alongside Donna Vitagliano and continued on as President of the board for a number of years.
He was married to the love of his life, Patricia (Pat) Caouette, on September 8, 1956 in Utica. They shared a remarkable union of 63 years before Pat's passing in 2019. Carl's love for Pat was insurmountable; he always said it was sheer luck that they found each other and that she was everything to him. Carl and Pat's love of travel, music and movies found them taking many excursions to New York City, never missing the newest Broadway show, or to the closest theater to enjoy the latest blockbuster movie. Year after year, he took his family on vacations spanning the United States and Canada. A highlight of their travel experience included a trip to Europe visiting London, Paris and Italy, where they explored Carl's lineage and connected with extended family in Fiumefreddo. Carl and Pat had an active social life especially when it came to entertaining in their home. No matter who you were or where you were from, Carl and Pat welcomed many with open arms into their home and into their lives, bringing joy and laughter to all. Their love, devotion and respect for each other, served as a model to their children to respect all, stand for what is right and, most importantly, always be honest. His love for his family was exceptional and he was affectionately known to his grandchildren as "Papa," just as his father was referred to by his own children. He served as the patriarch of the family, celebrating all holidays with his immediate and extended family and anyone who happened to be alone on any given holiday. They ended every year with a grand New Year's Eve celebration at their home where all who came were welcomed. Even if he didn't know you, by the end of the night he would know what you drank, what your favorite dish was and would leave you looking forward to next year's celebration. New Year's Eve always included music and a dance
floor encouraging you to be yourself and enjoy the party well after the countdown into the New Year.
In addition to every holiday dinner, Sunday dinner was a staple at their home with all 5 children, their families and any friends who happened to knock on their door. Dinner was always served at 2:00pm sharp and continued for hours as stories, whether of laughter or even of a more serious nature, were passed around the table. He was always happiest when he was surrounded by his family. He encouraged you to do your best and he celebrated even your smallest achievements, which always left you wanting to strive for more, just as he did throughout his life. Carl was a wonderful, admirable man who did everything from the heart and expected nothing in return. Some of his happiest moments came from being able to help someone and see them succeed.
He is survived by his children Carlo (Anamarie), Marc, Paul, Eric, Patricia (Larry Desiato); his grandchildren Katelyn Miller (Matthew), Carl DelBuono, Paul (Amanda) and Anthony Del Buono; Jessica Roberts (Paul), Steven Goddard; three great-grandchildren Eve and Jane Miller, Grayson Corrado Del Buono; his sister Gloria Moreau and his brother Robert Del Buono (Angela); and several nieces, nephews and cousins who were all very special to him.
In addition to his wife and his parents, he was predeceased by his siblings including Olga Mascaro and his niece and nephew, Linda and Marc Crucitti.
The family wishes to extend their sincere gratitude to the staff of Hospice for all of their care of Carl.
Calling hours are Wednesday from 4-7 pm at Friedel, Williams & Edmunds Funeral and Cremation Services, 13 Oxford Rd., New Hartford.
In lieu of flowers, please consider donating to Hospice and Palliative Care, Inc. in memory of Carl.
Online messages of sympathy may be left at: www.fwefh.com
---