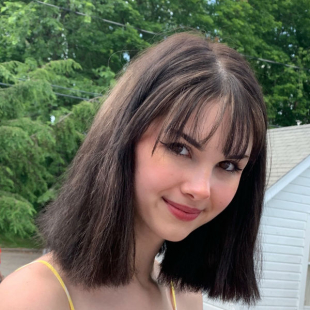 In Memory of Bianca M. Devins
October 2, 2001 - July 14, 2019
Resided in Utica, NY
---
Visitation
Church of Our Lady Lourdes
2222 Genesee St
Utica, NY 13502
Service
Church of Our Lady of Lourdes
2222 Genesee St.
Utica, NY 13502
Cemetery
Forest Hill Cemetery
2201 Oneida St
Utica, NY 13501
---
Obituary
print this
Bianca M. Devins, 17, of Utica, gained her angel wings on Sunday, July 14, 2019. She was welcomed in Heaven by her beloved cat, Belle.
She was born on October 2, 2001, in New Hartford, a daughter of Michael and Kimberly Williams Devins. Bianca just recently graduated from Proctor High School on June 28, 2019. She was going to continue her education at MVCC this fall.
Bianca was a member of the Church of Our Lady of Lourdes. She was an aspiring model, talented artist, and enjoyed playing the ukulele. Bianca also had a great love of animals especially her cats. Bianca will be remembered by her family and friends for her beautiful smile. Bianca was very caring and compassionate, and helped so many friends during their difficult times. Her passion, which she sought to pursue in her future career, was to help adolescents who struggle with mental illness.
She is survived by her parents, Kimberly Devins of Utica and Michael Devins of Naples, FL; step parents, Kaleigh Rimmer and Cody Meulengracht; siblings, Olivia and Maddison Devins, Dustin, Jordyn and Dakota Meulengracht; grandparents, Donna and Frank Williams and Michael and Cathy Devins; aunts and uncles, Kyle Williams and his wife, Melissa, Kristin Williams, Ryan Williams and his wife, Ana, Alvah Devins and his wife, Wendy and Jeremy Jellerson and his wife, Catherine; cousins, Kristofer, Tyler, Andrew and Hannah Williams, Shaniah and Danielle Devins, Sophia and Izabella Jellerson, Savannah Rodriguez, Kobe Jellerson, Quintin Calloway, Desmond Garcia; best friend who was like a sister, Gianna Rosado. She is also survived by two special friends, Jenna Fox and Chloe Dockstader.
The funeral will be on Friday at 1:00 on Friday, July 19, 2019 at the Church of Our Lady of Lourdes, 2222 Genesee St, Utica, where a Funeral Mass will be celebrated. Interment will be in Forest Hill Cemetery. Calling hours will be on Thursday, July 18, 2019, from 4:00 PM to 7:00 PM at the Church of Our Lady of Lourdes. Arrangements are with the Friedel, Williams & Edmunds Funeral and Cremation Services, 13 Oxford Rd., New Hartford, NY.
In lieu of flowers, donations can be made to the Bianca Michelle Devins Scholarship Fund, in care of The Community Foundation www.foundationhoc.org/Bianca This is the only Family-approved fund in Bianca's name.
---