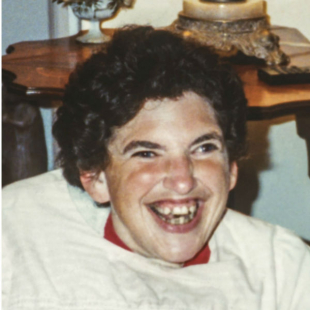 In Memory of Anne McKenna Buckley
January 12, 1955 - April 20, 2019
Resided in Clinton, NY
---
Visitation
No Visitation
Service
Church of Our Lady of Lourdes
2222 Genesee St.
Utica, NY 13502
Cemetery
St. Agnes Cemetery
601 Arthur St
Utica, NY 13501
---
Obituary
print this
Anne McKenna Buckley, 64, died April 20, 2019 at her home, surrounded by family.
Anne was born January 12, 1955 in Utica, daughter of Michael H. Buckley and Elizabeth Sexton Buckley. She was a loving daughter, sister, and aunt. From the day Anne was born, the family considered her to be a gift from God and each day she graced the world with her presence was a blessing. Anne's parents, Betty and Mike Buckley, devoted their lives to caring for Anne. It was with their special devotion and love that Anne lived a long, healthy life full of beautiful memories. Betty, Mike, and Anne may be seen as three individual people to some, but those that know them understand that the three of them were actually one. Betty and Mike both passed away in 2011 and Anne gave the family a wonderful eight years after. She will now join her parents in heaven and the trinity will be complete again.
Though Anne faced challenges physically, she lived a life full of happiness and laughter. She enjoyed every day with her family and her caregivers. Anne loved her family deeply and that was evident when you watched their interactions. Her devoted sister, Mary Combs, had the privilege of caring for Anne daily and could make Anne laugh simply by singing and dancing to some of her favorite songs. Anne would smile so big and her blue eyes would light up with joy when she knew her sister Mary was around. It was a relationship that is indescribable by words. Anne loved the Wiggles, her slinky, her two flamingos, polka music, figure skating, swimming, family vacations in Cape Cod, and countless other things.
Anne was the strongest woman the family has ever met. She faced every single day with strength and courage, dignity and grace. Without even knowing, Anne personally taught the family invaluable lessons; lessons about unconditional love, finding the joy in difficult times, and trusting God. Anne exemplified patience, acceptance, perseverance, and mostly love. She was an angel on earth and those who met her could attest to this. It was an honor and a privilege to have the opportunity to know and love her. Anne was the light of our lives. She was the glue that held the entire family together. We will be lost without her, but we know that it was time for the three to become one again. Thank you for your love. Thank you for your laughter. And mostly, thank you for being our beautiful Anne. Our angel on earth. We will love you for eternity
Anne is survived by her brothers and sisters, Michael Warren Buckley and his wife Cecelia Cardamone Buckley of Steamboat Springs, CO, Paul Joseph Buckley and his wife Sheila Gilroy Buckley of Utica, Mary Sexton Buckley Combs and husband Lawrence James Combs of Clinton, and Stephen Andrew Buckley and his wife Debra Crow Buckley of Malibu, CA; a brother-in-law, James Shafer of Charlotte, NC; her nieces and nephews Molly Elizabeth Shafer Carroll, Michael James Shafer, Michael Warren Buckley, Jr., Catherine Clarke Buckley, Joseph Alexander Buckley, Mary Margaret (Marnie) Buckley, Machaela Burns Buckley, Delaney Gilroy Buckley, Tierney Sexton Buckley, Ashley Elizabeth Combs, Courtney Lewis Combs, Lawrence James (L.J.) Combs, Benjamin Buckley Combs, Stephen Andrew Buckley, Jr., Allison Crow Buckley, and Jack Crow Buckley; two great nieces Emma and Kate Carroll. In addition to her parents, she was pre-deceased by her sister Margaret Buckley Shafer.
The family would like to express their deepest gratitude to the countless caregivers that selflessly gave their time to Anne providing her with love, support, and wonderful care. We will forever be grateful to you: Barb, Heather, Linda, OK, Carol, Jennifer, MaryAnn, Ginny, Trish, Lindsey, Kelly, Nichelle, and Stephanie.
A special thank you to Dr. Edward and Mary Lyons Bradley and the entire Schug family for your constant guidance and unwavering support.
A Mass of Christian Burial will be held Wednesday at 11:00 AM at the Church of Our Lady of Lourdes. The family will greet friends following the Mass. Interment will be in St. Agnes Cemetery, Utica. There are no calling hours.
Arrangements are with Friedel, Williams & Edmunds Funeral and Cremation Services, New Hartford.
---