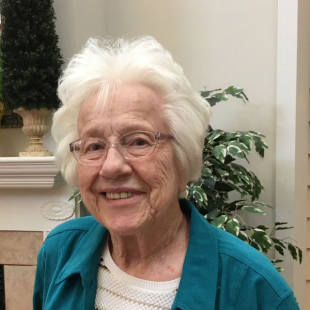 In Memory of Muriel Ann Goetz
March 27, 1928 - October 31, 2018
Resided in Utica, NY
---
Visitation
New Hartford
13 Oxford Road
New Hartford, NY 13413
Service
Friedel, Williams & Edmunds Funeral and Cremation Services
13 Oxford Road
New Hartford, NY 13413
Cemetery
Crown Hill Memorial Park
3620 NY-12
Clinton, NY 13323
---
Obituary
print this
Muriel Ann Goetz passed away on October 31, 2018. She was born in Utica, NY on March 27, 1928 to her parents, Emma Jane Ferguson Goetz and Martin Elias Goetz.
Muriel graduated from UFA in 1946 and earned her BS and MS degrees in physical education and elementary education from Cortland SUNY Teachers College. She taught physical education in Skaneateles (1950-1951) and New Hartford (1951-1954) schools. She also taught first grade at New Hartford Central School. She was an avid tennis player in high school and college and won the Utica Women's Singles championship in 1946 and 1947. She also played tennis for the U.S. Air Force placing Runner Up at the Woman's Strategic Air Command Tournament in 1961.
Muriel enlisted in the US Air Force in July 1954 where she completed basic training at Lackland AFB, San Antonio, TX. She was sent to Biloxi, MS where she graduated from Control Tower Operator (CTO) school. Immediately after graduating from CTO, she was sent back to Lackland AFB to attend Officers Candidate School (OCS) and graduated September 1955 as a Second Lieutenant. She served 20 years in the Air Force and during her service was assigned to various bases in the United States, Philippine Islands and England. She retired as Major, Chief Consolidated Base Personnel Officer at Wilford Hall Medical Center, Lackland AFB, Texas, in July 1974.
Muriel was predeceased by her brother M. Robert Goetz and his wife Mary Alice Goetz (Deerfield, NY) and her sister Lois Reynolds and her husband Clarence (New Hartford, NY). She is survived by several nieces and nephews, great nephews and their families: Claudia Quick and her husband Marshall (Colorado Springs, CO); Karen Richard and her husband Albert (Marcy, NY) and their sons - Matthew Richard, wife Kristina and their children Josiah, Kaylee, Elijah and Micah (Fort Thomas, KY) and Douglas Richard (Baltimore, MD) and Kevin Richard (New York, NY); Paul Reynolds (Atlanta, Georgia); Robert (Bob) Goetz and his wife Sheila (Orrington, ME); Wendy Goetz (Deerfield, NY); and Kathleen Boxall, her husband Cory and their sons Brendan and Collin (Haymarket, VA).
After retiring from the Air Force, Muriel resided in New Hartford and most recently in Rome, NY. At various times she was active with church volunteer work, the Stevens-Swan Humane Society and volunteering at the American Red Cross.
Muriel wished to extend appreciation to Dr. D. Christopher Clark for the care and comfort he provided to her for more than 30 years. She also wanted to give a very special thank you to Rev. Carol Jubenville for her outstanding pastoral, compassionate and personal care; as well as extending a very special thanks to the staff at the Community at Sunset Wood.
Thank you to the staff and residents of The Terrace at Woodland Assisted Living. Your beautiful facility, professional care and friendship among your staff and residents are outstanding. Thank you to Rev. Jeanne Kumbalek and the congregation of First Presbyterian Church (Utica NY) for their pastoral care and friendships over the years. And, finally, a heartfelt thank you to Hospice and Palliative Care and, especially, the volunteer staff at Abraham House for their loving care and comfort.
Calling hours for Muriel will be Tuesday, November 6, 2018 from 10:00 – 11:00am at Friedel, Williams & Edmunds Funeral Home, 13 Oxford Rd, New Hartford, NY. Service will follow at 11:00 a.m. with burial at Crown Hill Memorial Park.
In lieu of flowers, please donate generously to Abraham House, 1203 Kemble St., Utica, NY 13501.
---