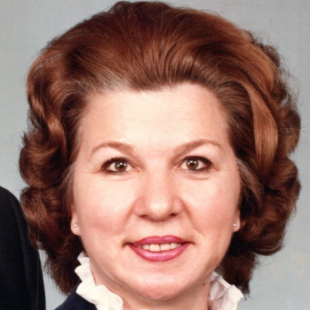 In Memory of Lucienne Jarmak
April 4, 1933 - June 8, 2022
Resided in North Port, FL
---
Visitation
Utica
1123 Court Street
Utica, NY 13502
Service
St Vladimir Ukrainian Catholic
4 Cottage Place
Utica, NY 13502
Cemetery
St Vladimir Ukrainian Cemetery
Wood Rd.
Whitesboro, NY 13492
---
Obituary
print this
Lucienne ( Luba/ Lucy) Jarmak, née Dacko, was born on April 4, 1933 in Paris, France to Caterina and Stepan Dacko. She died June 8, 2022 in North Port, Florida.
After experiencing the difficulties of war, her family was relocated to Germany. She met Wolodymyr ( Walter) Jarmak in Braunschweig at a displaced persons camp and they were married in October 1949. Together, they immigrated to the United Sates on Oct. 12, 1951 settling in Utica, New York where she lived for over 40 years. There she gave birth to four children- Annette, Peter,Andrew and Tania.
Lucienne was very religious and liked being active at St. Woldymyr Ukrainian Catholic Church of Utica and for the Ukrainian National Woman's League of America (UNWLA) of which she was a member for over 50 years. One of her favorite activities was teaching kindergarten for the UNWLA at the Ukrainian Saturday School. Lucienne worked for General Electric Company for many years advancing to the position of Tester-Inspector in the Aeronautics Division. The highlight of her career was receiving an award for working on the Voyager Space Explorer Project. After the passing of her beloved husband Walter in 1987, Lucienne chose to move to Port Charlotte, Florida in 1995
It was there that she met the second love of her life, Francis ( Frank) Spino and they were happily married for nine years until his passing in 2009. She then moved to North Port. Continuing her involvement in the Florida Ukrainian community, Lucienne was a member of St. Mary's Ukrainian Catholic Church of North Port, where she became a member of the church's Sisterhood. Lucienne continued being a member of the UNWLA, she also joined the Ukrainian-American Club and was a member of the Board of Directors of St. Andrew's Condo Assn.
She is survived by-
Her daughter Annette and her spouse Bohdan Sawycky, residing in New Jersey; her son Peter and his wife Lesia residing in New Jersey; her son Andrew and his wife Lisa residing in Illinois; and her daughter Tania and her spouse Ihor, residing in Ontario Canada. She also has seven grandchildren -Janelle, Andrew, Stephan, Michael, Nickolas, Maxsym and Simon- and three great grandchildren - McKenzie, Kallie and Theodore ( Teddy). She is survived by her sister Jean Ciolko, and brother in law Modest Pylat and their families. She is also survived by many nieces and nephews.
The family would like to extended their greatest gratitude and thank yous to Maria Biloizhka, Station 1- EMTs and Sarasota Memorial Hospitals ICU and Cardiac Units for the care they gave.
May she Rest In Peace!
Calling hours are on Monday from 4-6 PM at the Ryczek Funeral Home, 1123 Court @ York Streets, Utica. The funeral will be on Tuesday at 10:00 AM at St. Volodymyr the Great Ukrainian Catholic Church. Interment will follow in the parish cemetery
In lieu of flowers the family kindly requests that donations be sent in her memory to: UNWLA, 203 Second Avenue, New York, NY, 10003 Website: www.UNWLA.org .
---