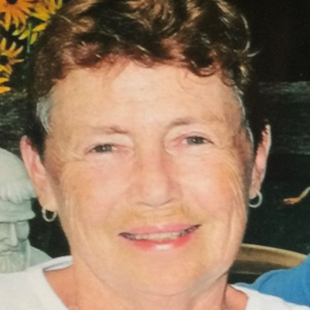 In Memory of Joan R. Evans
February 15, 1936 - November 20, 2021
Resided in New Hartford, NY
---
Visitation
No Visitation
Service
St. John the Evangelist Church
66 Oxford Rd.
New Hartford, NY 13413
Cemetery
No Cemetery
---
Obituary
print this
Joan R. Evans
Our mother and Nonnie, Joan Rahaiser Evans, passed away peacefully at home on Saturday, November 20, 2021.
She was born in Utica on February 15, 1936. She was the daughter of John and Marguerite (Reed) Rahaiser and sister to Rosemary and Virginia. On September 3, 1956, Mom married the love of her life, Ronald George Evans. They celebrated nearly 60 years of marriage before Dad's passing in 2016, and they are once again reunited.
Mom grew up in Yorkville, on Caroline Street and was a proud graduate of Whitesboro High School in 1954. She maintained and cherished those childhood friendships throughout her life.
She continued to socialize with these friends and met with them often to reminisce about the glory days. Following graduation, she worked as an operator for the New York Telephone Company. For many years, Mom worked in the cafeteria of New Hartford schools where, according to her, she "ran the school." She often told the school principal (our Dad) what needed to be done and how to do it!
Mom was the heart of our family. Her life was devoted to raising her six kids with love and compassion. Mom was always present at sporting events, school functions and neighborhood activities on Sherrill Lane. Our house was the home base for any neighborhood kids who needed a meal, a pick-up game, a swim in the pool, or a good laugh! Raising six kids with Dad working had its challenges; however, Mom handled it with great strength and humor. The Sherrill Lane friends and neighbors have continued to be a source of love and support for Mom and all of us, especially Carol, Milly and Laura.
Mom and Dad were always together. Upon their retirement, they spent winters in Myrtle Beach enjoying great times and creating cherished memories. After Dad's passing, Mom continued to enjoy time with her many friends - walking the mall, attending mass, bingo, chair yoga and dinner at the Elks. But most importantly, she treasured the time spent with her family. Nothing made her happier. Christmas Eve at Nonnie's was the highlight of our year and will always be a deeply cherished memory for her children, grandchildren and great grandchildren!
Mom and Dad leave behind an amazing legacy of six children: Susan Evans Keller (Dr. Brian Gaffney), Sheila and Kevin Grimmer, Ronald and Deb Evans, Mike and Jean Evans, Sharon Ziemba, Rick and Asha Evans. She also leaves behind eighteen adoring grandchildren: Jordan Keller, Jessica and Scott Rey, Nick and Michelle Grimmer, Megan and Jeff DeHimer, Alex Grimmer, Ronnie and Taylor Evans, Kelsey and Pat Gilman, Amy Evans, Michael Evans, Elizabeth and Chris Spellman, David and Luke Evans, Katie and Matt Baisley, Samantha Ziemba (Sam Hudziak), PJ and Benjamin Ziemba, Andrew and Liam Evans. In addition, she leaves behind fifteen great grandchildren: Lauren, Madison, Allyson, Evan, Nolan, Eliza, Avery, Jack, Emily, Warren, Sailor, Clara, Charlotte, Matthew and Nora. Mom also leaves several nieces and nephews, close friends and dear neighbors and her devoted companion, Blue, who never left her side. She was predeceased by her husband, parents, sisters, and son-in-law Thad Ziemba, who Mom thought of as a son.
The family would like to extend sincere thanks and appreciation to Dr. Brian Gaffney. The compassion and support of Sharon Meyer and her team (Jackie, Leslie, Priscilla and Rosa) has been invaluable.
The funeral will be on Monday, November 29 at noon, at St. John the Evangelist Church, Oxford Road, New Hartford, New York. The family will greet guests at the conclusion of the mass. Arrangements are with the Friedel, Williams & Edmunds Funeral and Cremation Services, 13 Oxford Rd., New Hartford.
Please omit floral offerings. Donations in Mom's name can be made to the New Hartford Public Library or the Alzheimer's Association at act.alz.org. Envelopes will be available at the church.
---