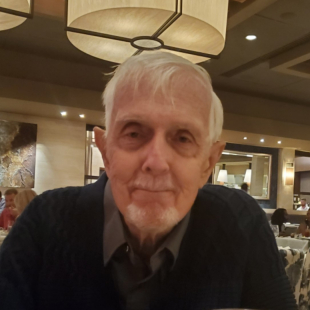 In Memory of Henry P. Stempien
December 15, 1942 - July 10, 2022
Resided in Whitesboro, NY
---
Visitation
No Visitation
Service
No Services
Cemetery
St. Mary's Cemetery
4100 E Genesee St
Syracuse, NY 13214
---
Obituary
print this
Henry P. Stempien, 79, of Whitesboro, formerly of Syracuse, passed away peacefully, July 10, 2022, at the home of his daughter and son-in-law.
He was born December 15, 1942, in Syracuse, son of the late Henry Stempien and Jean Lach Brazosky.
Henry's father died while serving during World War II, which inspired him to join the US Marines and later the New York Air National Guard.
He married Mary Haskins on January 28, 1978, at Dewitt Community Church and shared 44 years of a loving marriage. Henry was predeceased by his wife, Mary, who passed March 2, 2022.
Henry was employed with the Onondaga County Sheriff's Office for 20 years retiring in 1990. He then moved to Las Vegas, NV where here worked for Citizens Area Transit (CAT). While he was with CAT, he received a safe driving award. He would often remind his daughter, who would criticize his driving, that he had driven one million miles. Following his retirement from CAT, he and his wife traveled the US in an RV and eventually settled in Zephyrhills, FL. One of his most memorable vacations was a two-week trip he and Mary took to Europe. Later in life, Henry, along with his daughter, took an interest in genealogy to learn more about his father and paternal family to update the family tree.
Henry is survived by his daughters, Christina Stempien of Fairmont, WV, and Cheryl (Chuck) Baye of Whitesboro; his grandchildren Ashley (Ben) Capuana and Brandon Baye; his great-grandchildren Madelyn and Nolan Capuana; a stepson Allen (Orlene) Emm of Las Vegas, NV; his brother Louis Brazosky and sister Judy Brazosky both of Syracuse; two nephews and lifelong friends Richard Flanagan and Joe Mehlek.
The family wishes to thank Hospice and Palliative Care, Inc for all of their care for Henry, also all of their friends and neighbors for their support.
A graveside service will be held at the convenience of the family at St. Mary's Cemetery, DeWitt, NY.
In lieu of flowers, donations may be made to the American Cancer Society.
Arrangements are with Friedel, Williams & Edmunds Funeral and Cremation Services, New Hartford.
---