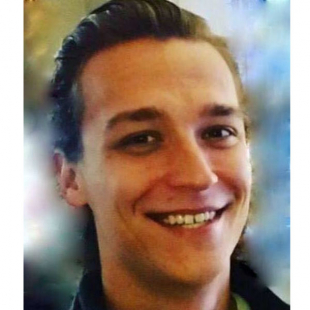 In Memory of Grady Stewart Moyer
January 3, 2019
Resided in New Hartford, NY
---
Visitation
No Visitation
Service
St. John the Evangelist Church
66 Oxford Rd.
New Hartford, NY 13413
Cemetery
Mt Olivet Cemetery
70 Wood Rd
Whitesboro, NY 13492
---
Obituary
print this
Our dear son, Grady Stewart Moyer, 25, of New Hartford entered into heaven, January 3, 2019 at SUNY Upstate Medical Center, surrounded by his loving family.
Grady was born August 5, 1993 in New Hartford, NY, the son of Michael and Kimberly Vanderlan Moyer and graduated New Hartford Senior High School class of 2012.
From his first breath Grady had an incredible zeal and zest for life, full of happiness, boundless energy and infectious joy.
He was a delightful boy loved performing whether he was doing flips on his big red ball to jumping off the van to slam dunk; singing, dancing. Keeping us all laughing he was astounding and amazed us always. He was the entertainer of our family.
He was a sports enthusiast. His favorite being basketball and WWE. He was on the football, lacrosse and basketball teams where he enjoyed the camaraderie among teammates.
From a sweet boy he grew to be a great man.
He was funny, witty, smart, and handsome and he loved comedy. To be with him-good times, smiles and laughter were guaranteed.
Grady was always supportive of family and friends, a great listener was there for others, has the right words and expressed them with ease. He was proud of their accomplishments as we were of all of his.
The love he had for his family was immeasurable.
He was kind, caring, and respectful and had a huge generous heart, gentle beautiful soul who brought happiness everywhere and enriched everyone's lives.
Grady was an incredibly wonderful son, one of our greatest joys, we were so blessed, honored to be his parents, always so proud of him. He was loved beyond words.
Grady fiercely battled addiction for years. Like he, we never doubted he would overcome this. He once again was a relentless fighter to the end.
A beloved son, brother, uncle, nephew, cousin, grandson, friend to all. He was full of life.
We love you, we miss you so much, until we meet again.
He is survived by his parents, Michael and Kim Moyer; his sisters Mallory Moyer and husband William Egert of New Hartford, Brianna Moyer of Verona and Emma Moyer of New Hartford, two nephews William and Ben Egert; his grandfather Donald Ehre, his aunts and uncles, Valerie and David Moyer, Melanie and Christopher Brown, Brett and Amanda Vanderlan, Deborah LaChappelle, Natalie Lisandrelli, Shawn and William Okusko, Tracy and Mark Loomis as well as his cousins, David (Kim) Moyer, Megan (Craig) Blask, Brandon Moyer, Ashley (Michael) Sanchez and Finley, Paige and Cassie Brown, Luke and Anna Vanderlan, Phillip and Carlo LaGalbo, Heath (Keeley) Nichols, Jackie (Omar) Sanchez, Nicole (Robbie) Moss and Angela Lisandrelli. Candace (John) Phelps, Jan (Casey)Okusko, Melissa (Mark) Coonrod, Jason (Marissa) Loomis, Mark (Briedi) Loomis, Michael (Kaitlin) Loomis. He was especially close to Layla and Cade.
He was predeceased by his sister Demi Louise, his grandparents Stewart J. Vanderlan, Bonnie T. Ehre, Francis and Bertha O'Grady Moyer; his Aunt Donna Knisley and Uncles Michael LaChappelle and Donald Lisandrelli.

A Mass of Christian Burial in celebration of Grady's life will be held on Thursday at 10:30 AM at St. John the Evangelist Church with Rev. Kevin Bunger, officiating. The family will greet friends following the Mass. Interment will be in Mount Olivet Cemetery. There are no calling hours.
In lieu of flowers, donations may be made to Footsteps for Finley-CURE CMD c/o Crowdrise.com or to the Alexandra G. Kogut Memorial Fund c/o the Community Foundation of Herkimer and Oneida Counties.
Arrangements are in the care of Friedel, Williams & Edmunds Funeral and Cremation Services, New Hartford.
---