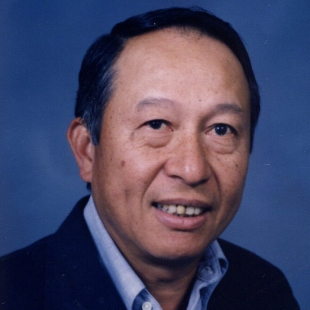 In Memory of Dr. Wen C. Wei
May 8, 1934 - November 21, 2021
Resided in New Hartford, NY
---
Visitation
Private Visitation
Service
Private Service
Cemetery
Private Cemetery
---
Obituary
print this
Dr. Wen C. Wei, 87, of New Hartford, NY, passed away peacefully on November 21, 2021, at home, surrounded by his wife of 54 years, Georgiann, and their 4 loving daughters.
Dr. Wei was born in Hsinchu, Taiwan, on May 8, 1934, the eldest son of Ching Po Wei and Shiou Lain Chu. He grew up in Japanese-occupied Taiwan during World War II, losing dear family members to the casualties of war while taking care of his sister and cousins. In 1950, he moved to post-war Tokyo, Japan, to attend public high school and was the first person of Chinese descent to attend medical school at Chiba University in Japan. He then interned at St. Luke's International Hospital in Tokyo.
Dr. Wei came to the United States in 1960, arriving with one suitcase and the $30 his father gave him. He interned at Albert Einstein Hospital in Philadelphia, and completed his residencies at Bellevue/NYU Hospital (general surgery) and Mount Sinai Hospital (neurosurgery) in New York City. Mount Sinai Hospital is where he met Georgiann, a nurse on the ENT floor. For their first date, they attended the original Broadway production of Man of La Mancha. They were married in 1967 in New York City.
Dr. Wei and Georgiann moved to Berkley, California, in 1967, for his research fellowship with the Atomic Energy Commission at the Lawrence Radiation Laboratory. By 1970, Dr. Wei and Georgiann moved to New Hartford, New York, to settle with their family. Dr. Wei became a U.S. citizen in 1972, and his name is on The American Immigrant Wall of Honor at Ellis Island, NY. Dr. Wei worked as a neurosurgeon for 27 years at St. Elizabeth Medical Center, Faxton Hospital, and St. Luke's Memorial Hospital (now, consolidated as Mohawk Valley Health System), 10 years of which he was the only neurosurgeon in the area. Dr. Wei was an active member of the Oneida County Medical Society, New York State Medical Society, Congress of Neurological Surgeons, and the American Association of Neurological Surgeons, and also was a diplomat of the American College of Surgeons.
After his retirement in 1997, he enjoyed spending time playing golf at the Yahnundasis Golf Club and, during the winter, was frequently seen practicing his swing at the Turning Stone Golf Dome. Dr. Wei also enjoyed skiing with his family, bird watching at the Utica Marsh and Sapsucker Woods, playing Go with his friends and grandchildren, and listening to music, especially Bach's Brandenburg Concerto No. 5 and Louis Armstrong. Dr. Wei was an internationally published haikuist. He will be remembered for his kindness and respect for all and his hilarious sense of humor.
Dr. Wei is survived by his loving spouse, Georgiann (Chupp), and their 4 daughters: Ann Wei (Eric Wellenreuther) of Denver, CO; Amy Wei (Todd Kenreich) of Bethesda, MD; Dr. Melissa Thibault (William) of Ithaca; and Julie Wei of New Hartford. Above all else, Dr. Wei loved his grandchildren: Mei and Lily Harrison; Casey, Clara, and Marianne Kenreich; Hana and Trent Thibault; and Jade Brasier.
He always enjoyed hearing from and visiting with dear family members: his stepmother Mio Yamashita of Tokyo; brother and sister (Bin Wei and Leika Sakuma) of Tokyo; brothers Asafumi Yamashita of Chapet, France, Bowen Wei and Tsugunori Yamashita of Tokyo; sister Kayo Yamashita of Tokyo; brothers-in-law William Meredith of Morgantown, IN, David Browning of Geist Lake, IN, and Sho Sakuma of Tokyo; and sister-in-law Zuiya Wei of Tokyo. He also loved watching his nephews and nieces (and their children) grow up: nephews Rob Meredith, Jamie Meredith, Jason Browning, Usei Wei, and Umei Wei; and nieces Megan Browning; Yumi Sakuma, Miki Sakuma, and Eri Wei. Dr. Wei was predeceased by his parents, his sister Mayumi Yamashita, and his sisters-in-law Mary Meredith and Beth Browning.
The family would like to express their extreme gratitude to Walter Burnett for his invaluable assistance as Dr. Wei's companion (or "bodyguard") for the past 3 ½ years which allowed Dr. Wei to remain at home after his stroke. The family would also like to thank the friends that contacted Dr. Wei during his time at home – your support and friendship meant the world to him.
In lieu of flowers, the family requests that memorial donations be made to Hospice & Palliative Care, Inc. (www.hospicecareinc.org), which was a great help to the family in the final days, and to the Mohawk Valley Hospital System (www.mvhealthsystem.org/donate). A private memorial service will be held by the family later this year.
Arrangements are with Friedel, Williams & Edmunds Funeral Home, New Hartford. Online messages of sympathy may be left at www.fwefh.com.
---