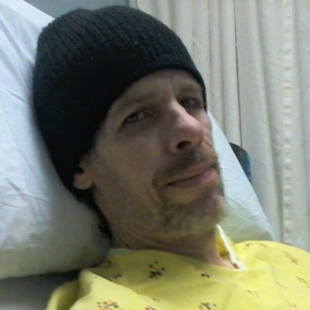 In Memory of Brian Andrew Hinton
April 3, 1966 - August 11, 2019
Resided in Oneida, NY
---
Visitation
New Hartford
13 Oxford Road
New Hartford, NY 13413
Service
No Services
Cemetery
No Cemetery
---
Obituary
print this
Oneida- Brian Andrew Hinton, 53, of Oneida and formerly of North Bay and Utica, passed away peacefully at his home with his loving family by his side, following a hard-fought battle with cancer, on August 11, 2019.
He was born on April 3, 1966, in Baltimore, Maryland, son of the late William R. Hinton and the late Maureen E. Wishart. He was educated in the Utica school system and upon completion entered the U.S Navy, stationed on the USS America in Norfolk, VA from 1984-1987.
In 1990, Brian met the love of his life, Michelle Norment, and for a short 29 years they journeyed through this crazy world together. He was a free spirited, down to earth guy who seemed to make it his goal for everyone he met to be happy and at peace. He had a knack for making people laugh and was always the life of the party. He was an avid Grateful Dead fan and he and Michelle spent much of their free time traveling to see live shows some of which included Dead shows prior to Jerry's passing.
Brian's interests include his passion for music, restoring VW buses, fixing things and the devil's lettuce. In his lifetime, he owned and restored 15 VW buses. You could see the pride on his face as he drove those buses everywhere. He also enjoyed fixing anything broken and truly had the ability to do so. He also spent many years growing, procuring, and smoking the all-natural, earthly herb. Brian became a friend to everyone he met, made the best out of any situation, truly enjoyed life and was a hippie through and through.
Brian is survived by his wife Michelle; three sons, Alex Hinton of Oneida; Chris Norment and Danielle Helt of North Bay; and Daniel Norment of Canastota; a little sister, Jeanne (aka Mert) Laguna of CA; two nieces, Nicole Fox and Ed Spetka of New Hartford; Samantha Amann and Chris Wickham of Rome; Uncle John and Aunt Pat Barshinger of MD; cousins Mike and Jenny Barshinger of PA; and Tim and Samantha Barshinger of MD, and very special friends, Lee and Scott of Albany. Brian was predeceased by his father, mother, maternal and paternal grandparents.
The family would like to thank Hospice & Palliative Care for providing loving support through our most difficult time. Also, thank you to Patty and Judy at Slocum Dickson for going above and beyond to make sure we were ok and had what we needed.
A time to gather will be held at Friedel, Williams, & Edmunds Funeral and Cremation Services, 13 Oxford Rd., New Hartford on August 20 from 4 to 6 pm. This will be a time for friends and family to share memories and celebrate Brian's life.
Family and friends please consider the Rainforest Alliance in memory of Brian. Envelopes will be available at the funeral home.
---