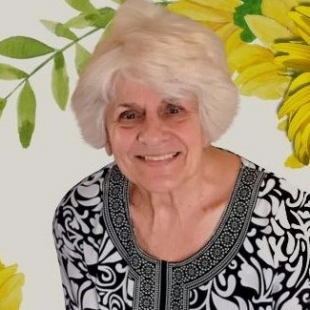 In Memory of Anne Marie Giglio Martin
July 19, 1942 - May 7, 2021
Resided in Summerlin, NV
---
Visitation
New Hartford
13 Oxford Road
New Hartford, NY 13413
Service
St Mary of Mt Carmel Church
648 Jay St
Utica, NY 13501
Cemetery
Calvary Cemetery
2407 Oneida St
Utica, NY 13501
---
Obituary
print this
Anne Marie Giglio Martin, a resident of Summerlin, Nevada, died on May 7, 2021, at Mountainview Hospital, Las Vegas, Nevada, after a courageous battle with a long illness. Anne, a former resident of New Hartford, New York, was born in Utica, New York, on July 19, 1942, the daughter of Josephine J. Giglio and Anthony L. Giglio. She is survived by her sister, Marilyn Tibbitts, of Claxton, Georgia.
Educated in Utica Public Schools, Anne was a proud graduate of Utica Free Academy in 1960, and always spoke fondly of her years at UFA as a cheerleader and a Dunham Debate participant.
After graduation, Anne attended Utica College, where she met the "love of her life," her husband of nearly sixty years, Edward J. Martin, Jr. Anne and Ed have five children and eight grandchildren: Lisa Anne Risucci (Vincent, Anthony, Nicolas), Las Vegas; Colleen Marie Dreimiller and Dennis L. Smith (Andrew), Las Vegas; Edward J. Martin, III, (Edward IV), Las Vegas; Angela and Anthony Matera (Abigail), Trumbull, CT; and Anthony and Suzanne Martin (Anthony, Grace), Las Vegas.
Raising five children was not enough to sap the energy of this five-foot tall "wonder woman," so she decided to explore volunteerism by assisting in juvenile probation, working with young girls who required advice and support. She found the work very rewarding.
In 1980, seeking to keep her own five very energetic children busy, Anne became the life force behind the opening of the Village Inn of North Utica, and eventually the Village Inn of New Hartford. The business grew because Anne took great pride in treating people as she would treat guests in her own home. She viewed the business as an extension of the hospitality and comradery shown at Sunday dinners in the Martin home, where exceptional Italian and Lebanese food enabled healthy discussions. In addition, the restaurants not only provided a clean, pleasant environment for guests, but, as Anne often said, it presented an opportunity to help the community, providing jobs for local students and becoming involved in local issues.
In 2003, the Martins moved to Las Vegas to join three of their five children who worked and lived there, and, of course, to enjoy the company of seven of their eight grandchildren.
However, Anne still had time on her hands, and the nearby Nevada Cancer Institute was looking for volunteers. Consequently, she volunteered there for six years, helping to support the fight against cancer, until, sadly, the not-for-profit closed. Still following her passion for helping, Anne volunteered at the Lou Ruvo Center for Brain Health. She had been there for 8 years, helping patients who suffered with dementia, Alzheimer's, multiple sclerosis, and other debilitating neurological diseases. Her favorite role, Anne said, was "opening the front door and greeting patients and families. It's not easy… but no matter what, we treat everyone with dignity, class, and respect."
Anne truly loved the people that she has helped throughout her life. She showed this love with her hugs and her encouraging words and her warm smile. She wanted to share her passion for life with everyone! Volunteering provided the opportunity.
Calling hours are 4-7 PM, Monday, June 21, 2021, at Friedel, Williams & Edmunds Funeral and Cremation Services, 13 Oxford Road, New Hartford. A funeral mass will be held at Mount Carmel Church at 10:00 AM Tuesday, June 22, 2021. Interment will be at Calvary Cemetery.
Please, in lieu of flowers, consider a donation to the Lou Ruvo Center for Brain Health/Cleveland Clinic, 888 West Bonneville Ave., Las Vegas, NV 89106.
---